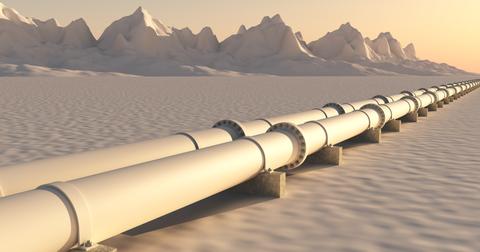 Energy Transfer Seeks Lake Charles Terminal Extension
By Vineet Kulkarni

Updated
Energy infrastructure titan Energy Transfer (ET) has asked the Federal Energy Regulatory Commission (or FERC) for a five-year extension to build its proposed Lake Charles LNG export terminal. The company is planning to develop the project by December 2025. It requested the deadline extension to accommodate complex international contract negotiations.
What's behind the delay?
The Lake Charles LNG project is a 50/50 joint venture between Energy Transfer and oil supermajor Shell. The project has a total liquefaction capacity of 16.45 million tonnes per annum. Midstream company Energy Transfer received FERC approval in late 2015, but the project wasn't built.
Energy Transfer doesn't plan to make a final investment decision in the Lake Charles project until early 2020. The Lake Charles LNG terminal belongs to Energy Transfer's Interstate segment, which comprised approximately 16% of the company's total EBITDA in Q2 2019.
There seems to be immense international growth potential for US LNG exports. The midstream giant set up an office in China in April to better meet its LNG (liquified natural gas) demand. LNG demand in China will likely play a significant role in the US natural gas industry.
Energy Transfer posted strong earnings growth
Energy Transfer has reported significant earnings growth in the last couple of years. In 2018, its adjusted EBITDA increased 56% year-over-year. Wall Street analysts expect its EBITDA to grow 36% this year.
Higher oil and gas production and its growth projects coming online had a substantial positive impact on the company's bottom line. To learn more about Energy Transfer's latest earnings, please read Energy Transfer Earnings: Growth Streak Continued.
Energy Transfer stock has been trading under pressure this year. It is currently trading close to its early 2019 levels, significantly underperforming its peers. The Alps Alerian MLP ETF (AMLP) is up more than 4% so far this year. ET forms approximately 10% of AMLP.
Valuation
Energy Transfer stock looks attractive from a valuation standpoint, and it's currently trading at a forward PE multiple of 9.3x. This multiple looks much more discounted than its historical valuation average, which is close to 16x. Importantly, Energy Transfer's strong expected earnings growth in the next few years makes it even more attractive.
Its distribution yield of 9% also significantly surpasses its peers. Currently, AMLP offers a distribution yield of 8.5%. Midstream giant Kinder Morgan (KMI) is currently trading at a forward valuation multiple of 19x, and Enterprise Products Partners (EPD) has a forward valuation multiple of 12x.
Chart indicators
Based on simple moving average levels, Energy Transfer stock continues to look weak. It closed at $13.60 last week, which was 4% and 6% below its 50-day and 200-day moving average levels, respectively. The stock fell below both these support levels in July and has been trading weakly since then.
Its 50-day level of $14.12 could act as a resistance in the short term. On the downside, its bottom hit in last December close to $12.20 could act as a support in the short to medium term. ET's RSI was 54 at last week's closing.
Slowing global economic growth has weighed on crude oil and natural gas prices recently, which also hampered energy midstream stocks. Oil and Energy Transfer stock have each fallen more than 20% in the last 12 months. Although midstream companies don't have direct exposure to oil and gas prices, the stocks have a moderate positive correlation with them.
The Alps Alerian MLP ETF also looks notably weak considering its moving average levels. It was trading at $9.10, almost 5% and 6% below its 50-day and 200-day moving average levels, respectively. AMLP fell to record oversold levels last month. On August 30, its RSI was 53.
Energy Transfer stock: Price targets
Energy Transfer stock offers a handsome gain potential of more than 55% based on analysts' current market price of $21.20. Along with its robust capital gain, Energy Transfer's distribution yield seems to offer a healthy total return potential.
Of the total 20 Reuters-surveyed analysts, 10 recommended the stock as a "strong buy," eight recommended a "buy," and two recommended a "hold." None of the analysts recommended ET stock as a "sell" on September 3.
For more in-depth information on this sector, please read Read Looking at Energy MLPs with Strong Growth Prospects.