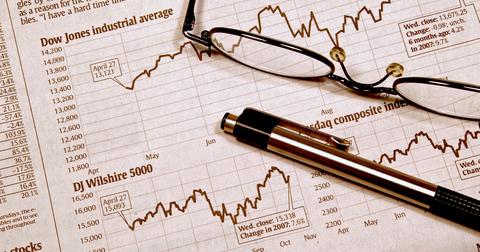 Dow Jones Fell 0.6% Yesterday, Ends Week in Red
By Adam Rogers

Updated
The Dow Jones Industrial Average or DJIA fell 0.6% or 159.72 points on Friday, September 20, 2019. The S&P 500 ETF fell 0.54% yesterday. Tech ETFs, such as the Technology Select Sector SPDR Fund (XLK), VanEck Vectors Semiconductor ET (SMH), and iShares PHLX Semiconductor ETF (SOXX), returned -1.15%, -1.9%, and -1.84%, respectively, on September 20.
Top Dow Jones stocks like Microsoft (MSFT), Apple (AAPL), Goldman Sachs (GS) and Home Depot (HD) returned 1.5%, -0.5%, -2.8%, and -4%, respectively, in the last week. Also, Exxon Mobile (XOM) fell by 0.8% last week.
Article continues below advertisement
Why Dow Jones Index fell yesterday
According to this CNN report, while the Dow Jones was trading higher in the early market yesterday, it corrected in the second half. The report mentions a Chinese delegation. They apparently canceled a visit to a farm country in Montana, which sent stocks and indices lower.
It looks like any indication of weak diplomatic ties between the US and China will spook the markets. However, it seems like the trade war talks are moving forward. The USTR (United States Trade Representative released several notices yesterday. These notices included tariffs exclusions for several Chinese products, such as electric skateboards, Christmas lights, and many others.
The week started with Saudi attacks
The Dow Jones Index was impacted by the attack on Saudi Arabia's oil fields. DJIA fell on September 16 after rising for eight consecutive days. While energy stocks somewhat managed to offset the declines, the DJIA lost 142 points that day.
The other major news last week was the Fed rate cut. The Federal Reserve cut interest rates by 0.25% for the second time in 2019. While President Donald Trump was unimpressed, the rate cut was in line with Wall Street expectations.
Article continues below advertisement
Dow Jones trading 1.7% below record highs
The Dow Jones Index has fallen 1.04% in the last week and is trading 1.7% below its record highs. Other major ETFs also experienced a decline last week. The S&P 500 fell 1% while XLK was down by 1.82%. Will Dow Jones and other indices continue to move higher or will Wall Street remain cautious?
A lot will also depend on how Saudi Arabia responds to the recent attacks. In case the Middle Eastern giant decides to wait and watch, oil prices should stabilize higher than the current price. There will always be a threat of retaliation that needs to be priced in.
Volatile US-China trade talks destabilize markets
The Dow Jones might move higher on investor optimism as the relations between the US and China steadily improve. The trade talks between the US and China are expected to resume in October. However, it's pretty clear that President Trump will be unwilling to take a step backwards, especially with the elections just a year away. Also, the slowing economic situation in China gives White House the upper hand.
The biggest short-term driver of Dow Jones and other indices will be the upcoming third-quarter earnings. A lot will depend on how top firms perform across industries. Investors will come to know if the semiconductor downturn has ended or if tech spending will further decline. The earnings will also give a peek into company expectations and forecasts for upcoming quarters. Expect markets to remain volatile going into the last quarter of 2019.