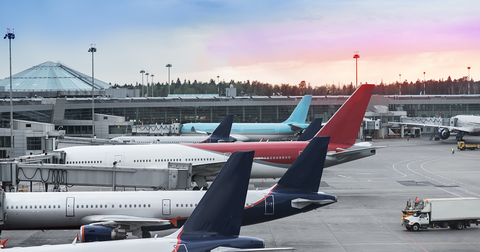 Delta and United: The Best Airline Stocks Right Now?
By Anirudha Bhagat

Updated
Delta Air Lines (DAL) and United Airlines (UAL) could be interesting choices for investors right now. Their strong back-to-back quarterly performance and outlook are impressive. Moreover, the two companies could continue benefiting from the domestic market's strong corporate and leisure travel demand. Low unemployment and higher wages are driving US air passenger traffic.
The stocks' performance this year has diverged. Delta is one of the US airline industry's top stocks, while United has lagged behind the broader market. Delta stock has returned 16.9% year-to-date, outperforming the Dow Jones and the iShares Transportation Average ETF (IYT), which have gained 15.6% and 13.6%, respectively. United Airlines stock has returned just 6.5% this year.
Delta's and United's impressive outlook
Delta and United both have a strong history of beating analysts' earnings expectations. Delta has surpassed analysts' earnings estimates in the last eight quarters. In the second quarter, its top and bottom lines beat Wall Street's estimates and improved significantly YoY (year-over-year). The company's focus on enhancing its non-ticket sources and premium products is supporting the growth.
Delta had also raised its revenue growth guidance for fiscal 2019, to 6%–7% from 5%–7%. The company's guidance is higher than Wall Street's estimate of 5.6%. In the third quarter, Delta expects its adjusted EPS to grow 15%–31% to $2.10–$2.40. Analysts' Q3 earnings forecast of $2.26 is almost at the midpoint of the company's guidance.
United Airlines has surpassed analysts' earnings estimates in 13 of the last 14 quarters. In the second quarter, the company's revenue and earnings improved YoY and beat analysts' expectations.
United expects to continue benefiting from adding more flights, managing costs efficiently, and investing in customer service. Therefore, it has raised its fiscal 2019 EPS guidance to $10.50–$12 from $10–$12. Analysts' fiscal 2019 EPS estimate for United is $11.72.
Delta stock benefits while other airlines struggle
Delta's non-exposure to Boeing's (BA) troubled 737 MAX jets has made it attractive. The planes' grounding, started in March, has caused thousands of flight cancellations for Southwest Airlines (LUV), American Airlines (AAL), and United Airlines. Together, the three companies own 72 Boeing 737 MAXs. Southwest and American have revealed that the MAX grounding cost them $175 million each in the second quarter.
As Delta doesn't own any MAXs, it's been shielded from the grounding's impact. Furthermore, the planes are expected to remain grounded until December, meaning Delta's rivals could lose even more money. Meanwhile, Delta can continue with its global and capacity expansion plans.
The airline increased its seating capacity by 4.7% in Q2, and plans to raise it by 4% in Q3. In the second quarter, its pretax margin expanded by 190 basis points YoY. The $2.1 billion Delta returned through dividend payments and share repurchases in this year's first half makes it even more attractive to investors.
Since initiating dividends in 2013, the airline has increased their quarterly rate seven times. Most recently, Delta raised its dividend by 15% to $0.4025 per share in the second quarter. Its annualized dividend yield of 2.8% is much higher than the industry average of 2%. The company's top two competitors, American and Southwest, have much lower yields, of 1.5% and 1.3%, respectively.
MAX issues overblown for United stock?
For United Airlines, we believe the 737 MAX concerns have been overblown. The airline's seating capacity and financials have improved despite the MAX grounding. In the second quarter, United's seat capacity grew 3.6%. Meanwhile, American and Southwest, both 737 MAX owners, saw their seating capacity fall 0.8% and 3.6%, respectively. Furthermore, United's pretax margin expanded by 200 basis points YoY to 12.4%. Southwest's pretax margin was almost flat YoY, while American's grew 30 basis points.
Analysts bullish on DAL and UAL
Wall Street is bullish on Delta and United, with most analysts recommending "buy" for their stocks. Of the 20 analysts covering Delta Air Lines, 75% suggest "buy," and 25% suggest "hold." Their average target price of $70 implies a 20% return over the next year.
For United Airlines, 70% of the 20 analysts suggest "buy," and 30% suggest "hold." Their average target of $109.31 implies a 22.6% return over the next year.