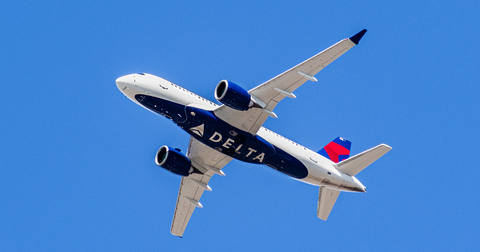 Delta Air Lines Stock Up 16% YTD: Clear Skies Ahead?
By Anirudha Bhagat

Updated
So far in 2019, Delta Air Lines (DAL) stock has emerged as a leader in the airline industry, as most of its peers didn't keep pace with the broader market. With a year-to-date return of 16%, the stock is one of the top performers in the airline industry. Delta stock has outperformed the Dow Jones Industrial Average's YTD gain of 13.2%.
Among Delta Air Lines' peers, American Airlines (AAL) stock has lagged the US airline industry. American Airlines has lost 18% of its market value so far this year. Southwest Airlines (LUV) and United Airlines (UAL) have gained 12.6% and 0.7%, respectively.
DAL stock also outshined the iShares Transportation Average ETF (IYT), which is up 10.6% YTD. This ETF invests in Dow Jones transportation stocks and has allocated 20.5% of the fund to the passenger airline industry. In this article, we'll look at the factors that could drive Delta stock higher.
Article continues below advertisement
DAL: No exposure to Boeing MAX jets
The major supporting factor for Delta stock is its lack of exposure to Boeing (BA) 737 MAX aircraft. Notably, these 737 MAX aircraft have faced a global flying ban since mid-March following two fatal crashes within five months.
The grounding of the 737 MAX jet has caused thousands of flight cancellations to Delta Air Lines' top three peers. Southwest Airlines, American Airlines, and United Airlines together operate 72 MAX planes.
From mid-March until the end of the second quarter, Southwest Airlines has canceled over 20,000 flights due to the 737 MAX's grounding. American Airlines and United Airlines together had canceled more than 11,000 MAX flights in the second quarter.
These three airlines have lost billions of dollars due to massive flight cancelations. In its August 6 report, OAG stated that the US airlines could lose $4 billion in revenues and associated expenses if the 737 MAX remains grounded throughout October. During their latest earnings results, American Airlines and Southwest Airlines both revealed that the extended MAX grounding cost them $175 million during the second quarter.
Further, the MAX grounding is impacting the expansion plans of airline companies, as it has reduced their fleet counts as well as seating capacity. During the second quarter, Southwest Airlines and American Airlines recorded YoY declines of 3.6% and 0.8%, respectively, in their seating capacity.
As Delta Air Lines doesn't own any 737 MAX variants, it is safeguarded from the damage from the aircraft's grounding. As uncertainty still looms over the Boeing MAX's possible return to service, Delta's rivals could lose more money in the second half of 2019.
On the other hand, Delta Air Lines would be able to continue with its capacity and global expansion plans, bringing in incremental revenues for the company. In Q2, Delta's seating capacity grew 4.7%. The company anticipates increasing its overall seat capacity by 4% in the third quarter.
Article continues below advertisement
Delta's strong financial performance
Delta Air Lines has a strong history of beating analysts' earnings expectations. The company has surpassed Wall Street earnings estimates in the trailing eight quarters. Delta's second-quarter revenues and earnings improved significantly YoY and beat analysts' estimates as well. The airline supports its growth with its sustained focus on enhancing premium products and implementing non-ticket revenue sources.
Further, Delta Air Lines is efficiently managing its non-fuel expenses through fleet transformation, cost-control measures, and its One Delta initiative. This strategy has helped the airline expand its operating margin. The airline reported a YoY expansion of 190 basis points in its second-quarter adjusted pretax operating margin.
Buoyed by impressive second-quarter results, Delta Air Lines raised its revenue growth guidance for fiscal 2019. The company expects its revenues to increase 6%–7%, instead of the earlier expectation of 5%–7%. For the third quarter, it anticipates the capacity to increase by 4% and unit revenues to grow 1.5%–3.5%. The airline's adjusted EPS forecast of $2.10–$2.40 for Q3 implies 15%–31% YoY growth.
Article continues below advertisement
Will the rally continue for Delta stock?
Analysts polled by Reuters are optimistic about the near-term performance of Delta stock. These analysts provided a consensus "buy" recommendation on the stock and expect a robust double-digit upswing in its share price.
About 74% of the 19 analysts covering Delta Air Lines have a bullish stance while the remaining 26% suggest holding it. Their target price of $69.94 for the stock implies a 21% upside from the August 30 closing price of $57.86.
The company's strong back-to-back quarterly performances drove analysts' bullish sentiments. Analysts are optimistic that the strategy of enhancing its premium seating capacity and non-ticket offerings could drive Delta's top line. Analysts also believe that cost-control measures, fleet transformations, and One Delta initiatives should further support its bottom-line growth.
In our view, Delta Air Lines' shareholder-friendly direction makes it more attractive for investment purposes. In the first half of 2019, Delta has returned $2.1 billion through share repurchases and dividend payments.
During its Q2 earnings release, Delta Air Lines increased the quarterly dividend rate by 15% to $0.4025 per share. Delta has a dividend yield of 2.8%, which is significantly higher than the industry average of 2%. Its top two peers, Southwest Airlines and American Airlines, have much lower dividend yields of 1.4% and 1.5%, respectively.