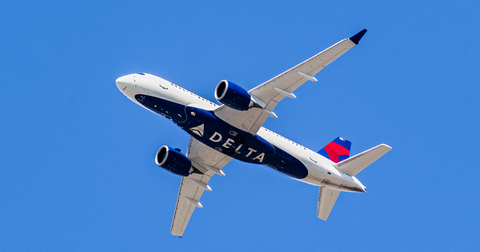 Delta Air Lines Reaffirms Q3 Outlook, Traffic Rising
By Anirudha Bhagat

Updated
Article continues below advertisement
Delta reaffirms fiscal 2019 outlook
During its second-quarter earnings release, Delta issued guidance for the third quarter and updated outlook for the full year. The airline still expects its unit revenues to increase 1.5%–3.5% in the third quarter. Plus, it projects its adjusted EPS to grow 15%–31% YoY to $2.10–$2.40 (with a midpoint of $2.25) in Q3. Wall Street analysts project earnings of $2.27 per share for the quarter.
For the fiscal year, the company reiterated its top-line growth forecast of 6%–7%. It expects its earnings for the year to increase 25% YoY to $7.06 per share. The earnings growth forecast coincides with the company's earlier projection of a 19%–28% increase. Analysts polled by Reuters have a consensus average earnings estimate of $7.11 per share for fiscal 2019.
At the conference, Delta said that the company is "consistently running the industry's best operation with record load factors, strong brand momentum and growing loyalty base." However, the airline cautioned that bad weather, increased employee costs, and record passenger volumes could put pressure on non-fuel expenses.
We believe a continuous increase in passenger traffic could drive the company's revenues in the forthcoming quarters. Moreover, its top-line results could benefit from increased revenue contributions from premium products and non-ticket sources. Furthermore, cost-control measures, route realignment, and One Delta initiatives should support Delta's bottom-line growth.
Article continues below advertisement
Over the past year, Delta has been focusing on its low airfare strategy to drive passenger traffic. We believe that efficient cost management and moderate oil prices should help it offer lower airfares. Moreover, the airline is simultaneously adding more business-class seats to tap premium customers.
Passenger traffic keeps growing
Apart from reaffirming its Q3 and fiscal 2019 outlook yesterday, Delta Air Lines also released its operating statistics for August. During the month, the airline carried a record 19.2 million passengers across its global network. The company also achieved a record system load factor for August.
Delta's traffic (or revenue passenger miles) grew 5% year-over-year, which outpaced the capacity (or available seat mile growth) rate of 3.7%. The company's passenger traffic has risen for 19 consecutive months. Delta's traffic grew 5.5% year-to-date, which is higher than its capacity increase of 4.5%.
The company recorded traffic growth in its domestic and international markets. In August, Delta's US traffic grew 5.9%. From January to August, its US traffic rose 6.8%. A healthy job market has been driving the US market's robust air travel demand.
In August, Delta's international traffic rose 3.6% due to its 5.3% growth in the Atlantic region and a 2.8% increase in the Pacific region. However, the company witnessed a traffic decline of 0.4% across the Latin America region during the month.
From January to August, Delta's international traffic has increased 3.2%. The company reported traffic growth of 4.7% and 4.3%, respectively, across the Atlantic and Pacific regions. However, traffic in the Latin America region fell 0.9% YTD.
Article continues below advertisement
Delta adds capacity to profitable routes
Delta is strategically adding capacity to the more profitable transatlantic and transpacific routes. The transatlantic route connects flights between the US and Europe, and the transpacific path signifies flights between the US and Asia or Australia. In the last eight months, Delta has raised its Pacific and Atlantic region capacity by 5.6% and 4.8%, respectively.
This initiative has helped Delta improve its unit revenue or total revenue per available seat mile (or TRASM). In the second quarter, the company's TRASM increased by 3.8% YoY to 17.42 cents.
Delta's Q2 TRASM growth rate was higher than most of its US peers. American Airlines (AAL) had reported a 3.5% YoY increase in second-quarter unit revenue. United Airlines (UAL) recorded a 2.2% YoY rise in its Q2 TRASM. Southwest Airlines (LUV) registered the highest TRASM growth of 6.3% in the second quarter.
Delta Air Lines stock is one of the top performers in the airline industry with a YTD return of 14.7%. The stock has outperformed the Dow Jones Index, which is up 13%. Its YTD return is also higher than the iShares Transportation Average ETF's (IYT) gain of 10.5%. This ETF invests in Dow Jones transportation stocks and allocates nearly 20% of the fund in the passenger airline industry.
Among Delta's top peers, American Airlines has lagged the most in its performance. AAL has lost approximately 16% of its market value YTD. Southwest Airlines and United Airlines' stocks are up 12.1% and 0.2%, respectively.