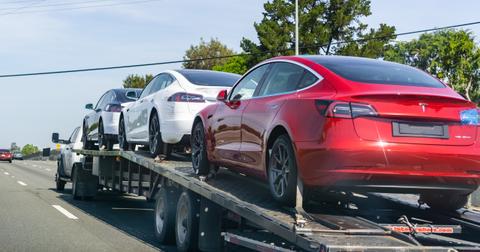 Can Tesla Top Its Q2 Deliveries Record with a Q3 Push?
By Anuradha Garg

Updated
Tesla (TSLA) achieved record deliveries in the second quarter with 95,200 cars shipped. This figure implied rises of 134% YoY (year-over-year) and 51% sequentially. The company also surpassed analysts' expectation of 91,000 units for the quarter. Its production for the quarter totaled 87,048 units—its highest level ever.
Article continues below advertisement
Tesla Model 3: The main driver of record deliveries
Tesla's Model 3 was the main driver of its record deliveries in the second quarter. During the quarter, the Model 3 accounted for over 81% of Tesla's deliveries compared to about 45% in the second quarter of 2018. The deliveries of its Model S and Model X actually fell during the second quarter. Tesla started shipping the Model 3 worldwide in 2019. Due to its lower cost and premium features, the car caught on with a lot of EV consumers. Investors should, however, note that the Model 3's margins are lower than those of Tesla's other models. Despite its record deliveries in the second quarter, Tesla raked in higher-than-expected losses in the period.
Tesla's ambitious 2019 target
Tesla has guided for deliveries of 360,000–400,000 units in 2019. In the first half, it delivered 158,219 units. This implies that to reach the midpoint of its guidance, the company needs to deliver 221,781 units during the second half of the year—a 40% increase over the first half. Now, as the end of the third quarter approaches, it again seems to be making a push toward increasing its deliveries.
During a July 2 statement, the company said, "We believe we are well positioned to continue growing total production and deliveries in Q3." Moreover, its orders during the second quarter exceeded its deliveries, which implies that it has some order backlog in the third quarter.
Article continues below advertisement
Tax credit reduction: A negative for Tesla's deliveries?
Now, investors are looking forward to Tesla's third-quarter deliveries data. One factor that could negatively affect its deliveries in the third quarter compared to the second quarter is the reduction in its tax credit. Last year, its vehicles were eligible for a tax credit of $7,500. At the beginning of this year, that credit fell to $3,750. On July 1, the tax credit fell further to $1,875.
Starting in 2020, Tesla cars will no longer be eligible for a tax credit. Second-quarter deliveries benefited from this tax credit as customers brought their demand forward to take advantage of it. However, this incentive won't be available for deliveries in the third quarter.
Could new markets offset the negative impact of the tax credit?
The new markets in which the Model 3 has launched since the second quarter should help Tesla with its delivery push. The United Kingdom, South Korea, New Zealand, and Australia are some of the countries in which Tesla launched the Model 3 after June. We highlighted in Tesla's South Korea Launch Frenzy: Can It Outdo Apple? that the Model 3 was well received in South Korea. We also discussed in Could the Tesla Model 3 Disrupt the UK EV Space? that the Model 3 became the third-best-selling car in the United Kingdom in August. Tesla started delivering its Model 3 in the United Kingdom in late June.
Article continues below advertisement
On September 23, Teslarati reported, "Tesla is scheduled to deliver over 2,400 units of its Model 3 to Australia this month, making it one of the top-selling cars for the month of September." Driven.co reported, "The Tesla Model 3 has smashed electric vehicles registrations in New Zealand for August while monthly sales in the segment now at hovering around the 550-600 mark."
Sales in the US and China
In contrast to these new markets, Tesla seems to be trailing somewhat in the US. As per Inside EVs, the company delivered 13,150 Model 3s in the US in August, down from 13,450 deliveries in July. For China, JL Warren Capital expects 6,400 vehicle sales in the third quarter, according to CNBC. The company also stated that orders for the Model 3 spiked in China after the government exempted Tesla from a 10% purchase tax restriction.
Article continues below advertisement
The production of the China-made Model 3 is still quite far off. While the company should be able to start producing Model 3s in the fourth quarter, this production isn't expected to meaningfully push its delivery numbers in China in the fourth quarter. You can read more about Tesla's Gigafactory 3's progress in Tesla Gigafactory 3: A Step Closer to Model 3 Production.
Tesla's quarter-end push to drive up deliveries
Tesla is trying to make a quarter-end push to meet its ambitious delivery target. According to Electrek, Tesla is offering two years of free supercharging with new Model 3s. The website also stated that it's discounting inventory vehicles by matching them with cheaper orders.
Analysts expect Tesla's revenue to come in at $6.37 billion in the third quarter. This implies almost flattish growth sequentially. Assuming a similar product mix in Tesla's sales in the third quarter as in the second quarter, analysts expect its third-quarter deliveries to be similar to its second-quarter deliveries. Only time will tell whether the company will meet its ambitious deliveries target. It seems like Tesla isn't leaving any stone unturned in its efforts.
Meanwhile, Tesla stock has dropped 27.5% YTD (year-to-date) due to profitability concerns, underperforming the S&P 500 (SPY) and the Nasdaq Composite (QQQ). SPY and QQQ have gained 19.3% and 23.5%, respectively, YTD. Ford and General Motors have gained 19.7% and 11.3%, respectively, YTD.
Therefore, apart from focusing on delivery numbers, Tesla will have to start focusing on margins to turn its stock around. Its Model Y launch and the start of its China Gigafactory could play an important role in its goal of sustainable profitability. Read more on this in Tesla Turnaround Catalysts: China and Model Y Progress.