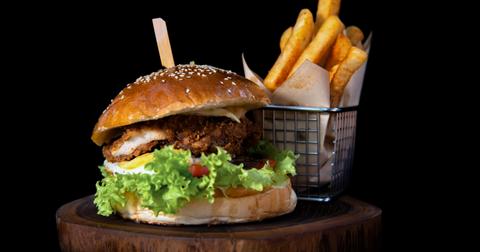 Beyond Meat: McDonald's Tests Vegan Burgers in Canada
By Shankar Iyer

Updated
Beyond Meat (BYND), which produces plant-based products that feel and taste like meat, is causing a stir in supermarkets, restaurants, and on Wall Street.
Long-time hamburger purveyor McDonald's (MCD) has decided to try the plant-based meat product. The fast-food restaurant chain plans to launch the vegan meat and test its customers' response. Twenty-eight McDonald's outlets in Canada plan to feature its new P.L.T. burgers, standing for plant-based meat, lettuce, and tomato.
Article continues below advertisement
The current emphasis on healthy living and following a healthy diet is accelerating around the world. The market for healthy vegan consumables is growing. Fast-food chains like White Castle, Carl's Jr., and Burger King have already increased the number of vegan items on their menus. To match its competition, McDonald's is turning to Beyond Meat as an ally.
What can you expect this week?
McDonald's launched the 12-week test of its new P.L.T. burgers in 28 Ontario restaurants today to gauge consumer response. McDonald's plans to monitor consumer response for the next quarter, a strategic move by the fast-food restaurant.
Testing a new product at the beginning of the week creates a solid foundation for the company to attract traders and investors. Consumer acceptance or distaste for the product could be directly reflected in the stock price. In our view, this is an excellent opportunity for traders to benefit from the price volatility of BYND and MCD stock.
The next quarter could cement a solid relationship for both the plant-based meat producer and the globally renowned fast-food chain. McDonald's recently introduced vegan burgers in Germany and Israel.
Until May, McDonald's had no intention of trying out the plant-based meat alternative. So, why the sudden change? Is the plant-based meat really that good?
Beyond Meat stock until now
Surprisingly to some, Beyond Meat already a decade old. Founded in 2009, BYND released its IPO in May 2019. The IPO witnessed a swarm of investors and pushed the stock price through the roof. The stock was oversubscribed by up to 30x, and an IPO that had been priced between $23 and $25 opened at $46.
On May 2, the company's first day on the Nasdaq, the stock rose to a high of $72.95 and closed at $65.75. In our view, this is a clear sign of investor confidence in Beyond Meat.
Many factors could contribute to Beyond Meat's growth. How the company performs in the stock market reflects the support of its investors, and the launch of the P.L.T. burger shows the backing of a global brand like McDonald's.
There's an increasing demand for healthy consumables, both in domestic markets and overseas. The major deciding factor could be whether customers like what they're eating.