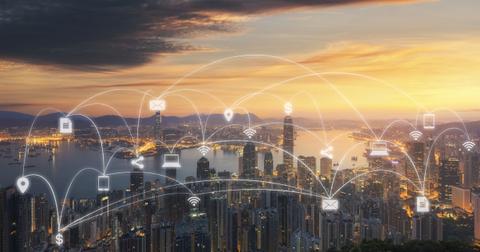 AT&T's Latest Investor Update: Here's What to Know
By Vineet Kulkarni

Updated
AT&T (T) is focused on executing its strategy to create more value from WarnerMedia, the telecommunications giant stated in an investor update on September 11.
John Stephens, AT&T's CFO, recently spoke at the Bank of America Merrill Lynch Media, Communications & Entertainment Conference. The company released its plans for 2019 and 2020 amid pressure from hedge fund Elliott Management earlier this week.
Article continues below advertisement
Contradictory views?
Elliot, which is led by activist investor Paul Singer, disclosed its $3.2 billion stake in AT&T on September 9. Elliott sent a letter to AT&T's board of directors and criticized the company's recent acquisitions, blaming them for its underperformance. Elliot pointed out the acquisitions of DIRECTV for $49 billion in 2015 and Time Warner for $85 billion in 2016. Elliott said AT&T has yet to articulate a clear strategic rationale for why it needs to own Time Warner.
While Elliott is suggesting divesting some of AT&T's noncore assets, the telecom titan sees growth potential for them in the near future. Stephens said he is ready to sit and discuss ideas with Elliott Management.
WarnerMedia
AT&T expects WarnerMedia run-rate synergies to reach $700 million by the end of 2019. However, it expects $400 million lower revenue by WarnerMedia in the third quarter. That's mainly because of a large number of hit movies at Warner Bros. in the second half of 2018. The segment contributed almost 19% of the company's revenue in the second quarter of 2019. WarnerMedia is planning to launch HBO Max in spring next year.
Article continues below advertisement
DIRECTV
In its letter, Elliott also mentioned that AT&T's pay-TV segment, DIRECTV, is struggling. Its premium TV subscriber numbers are declining because it acquired DIRECTV at the peak of the linear TV market. Interestingly, the company clarified in its shareholder update that it expects its premium TV subscriber trends to improve next year. The poorly performing segment might be feeling the heat amid Elliott's pressure.
The second-biggest wireless carrier also sees weakness in its wireless equipment segment, which could dent its third-quarter revenue.
AT&T's revenue growth might slow down
In the first half of 2019, AT&T posted handsome top line growth compared to the same period last year. However, in the second half of the year, its revenue growth is expected to slow down. Wall Street analysts expect flat to marginally negative revenue growth for the third and fourth quarters compared to 2018. They expect AT&T's bottom line to increase approximately 4% YoY.
In the second quarter, AT&T reported EPS of $0.89 compared to $0.91 in the second quarter of 2018. Its revenue for the quarter rose more than 15% YoY.
Article continues below advertisement
Debt
Elliott also pointed out AT&T's significant debt burden and suggested paying it back aggressively. At the end of the second quarter, it had net debt of $162.0 billion. The company plans asset monetization to repay debt and expects its leverage ratio to come down to 2.5x by the end of the year. It's kept its free cash flow guidance at $28.0 billion for the year.
AT&T stock continues to climb
On September 11, AT&T stock gained for the tenth consecutive trading session and hit its highest level since December 2017. Elliott's stake has notably boosted the stock this week. It's trading at record overbought levels at the moment with an RSI (relative strength index) of 92. This RSI level indicates that the stock could see a pullback in the short term. AT&T stock has risen more than 35% so far this year.
Read What You Should Know About AT&T's Dividend Profile for more on the company's latest. Read about how Jim Cramer sees Elliott's involvement in AT&T, along with other updates, in AT&T Stock: Will Elliott's Stake Keep Providing a Boost?