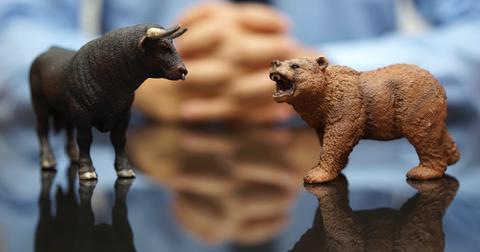 Are Analysts on Wall Street Becoming Bearish?
By Adam Rogers

Updated
The Dow Jones Index continues to trade just below its all-time high. Wall Street analysts are watchful as stocks' valuations rise, making them unreasonable or expensive at their current prices.
Article continues below advertisement
S&P 500 Index is trading at a premium, says Deutsche Bank
In an interview with Market Watch, Deutsche Bank (DB) Chief Strategist Binky Chadha advised investors to remain cautious on equities. Chadha expects a recession to hit the markets sooner rather than later. He said, "We are cautious on stocks. We would argue you want to be defensively positioned [and] we would argue that the US equity market has run way, way ahead of growth."
Chadha believes there are several indicators pointing to a recessionary environment. For one, the Institution for Supply Chain Management has fallen into contraction territory. Chadha expects that the S&P 500 Index is trading at a premium of at least 13%.
Further, the report states that US job growth fell to 1.3% in August from 2.5% in mid-2018. Job growth expansion was at its weakest point in over ten years. The ongoing trade war between the US and China continues to weigh on markets and will drag them lower if it's left unresolved.
Several other indicators point to a US and global recession. The yield curve has inverted in several bond markets. The global economy is sluggish, and China's economy is also struggling with slow growth. Though the US economy is stronger, companies with large exposure to international revenue will experience greater earnings declines in the third quarter.
Chadha is one of many analysts warning about a downturn.
Article continues below advertisement
Technology stocks are vulnerable in a sell-off
Tech stocks have a high beta, which indicates that they'll outperform broader markets in a bull run. However, they'll also be negatively affected in a downturn. Several large-cap tech stocks such as Apple and Microsoft (MSFT) are trading close to all-time highs after making a strong comeback in 2019. Will they rise higher or undergo a correction once again?
It's likely that tech stocks will again be decimated in a market sell-off. On September 16, analyst Paul Meeks interviewed with Market Watch and said he expects the tech-heavy Nasdaq to correct by at least 10%.
Meeks stated that the state of the global economy will result in lower demand for tech products and services. The analyst believes that demand in consumer and enterprise tech is cyclical. We've seen companies such as NetApp (NTAP) and DXC Tech (DXC) lose significant market value recently due to lower demand.
So is it time to bank on subscription services software companies? Companies with recurring revenue are better equipped to withstand a slowdown. But software companies are trading at a premium as well.
How will analysts and markets react to Fed rates
Will the Fed cut interest rates again to keep the economy going? How will the recent attacks on Saudi Arabia's oil fields affect its decision? Oil prices rose significantly yesterday and could affect consumer spending—at least in the short term.
While the Fed will try its best to stimulate the economy, how long can markets rise given the trade war concerns? There are more questions than answers for analysts and investors. There is also growing concern over Brexit and its impact on the European economy.
Investors are advised to bank on value stocks with a stable stream of recurring income and high dividend yields. The high-growth stocks in tech have already undergone a significant correction and might slump further in the coming months.
Analysts continue to hold opposing views. Some believe the economy is strong enough and recession fears are overblown. For others, the economic and recessionary indicators are too prominent to ignore.