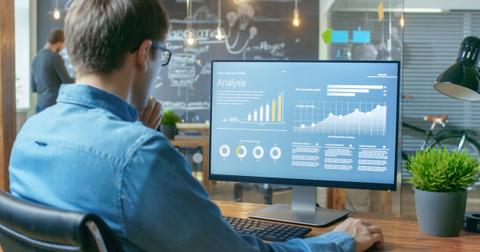 Apple Stock Leads FAANG Gains in 2019
By Adam Rogers

Updated
In this story, we'll see which FAANG stocks have outperformed the broader indexes. The FAANG stocks are Facebook (FB), Apple (AAPL), Amazon (AMZN), Netflix (NFLX), and Google (GOOGL). The Dow Jones Industrial Average is up 15.2% year-to-date while the S&P 500 Index has gained 18.5%.
Article continues below advertisement
Apple stock has gained 39% in 2019
Shares of technology giant Apple (AAPL) have easily outperformed the broader markets in 2019 despite growing trade war concerns. Its stock is up 39% year-to-date and is set to rise during the holiday season. Apple launched three new iPhones earlier this month, and the initial demand for the devices has been encouraging.
The iPhone is Apple's flagship device and accounts for the majority of its sales. Apple also launched a streaming platform for games as well as a content streaming platform. Apple is looking to diversify its revenue base and move away from its dependence on the iPhone.
If Apple's iPhone demand remains strong, it should provide the company with an opportunity to grow sales at a robust pace for two consecutive years. The next iPhone is expected to have 5G capabilities, and new and existing buyers should be interested in upgrading.
Facebook outpaces Dow Jones, trails Apple
Social media giant Facebook's (FB) stock has returned just over 36% in 2019. It has easily outperformed the broad market indexes and the other FAANG stocks, with the exception of Apple. Facebook has been impacted by privacy issues and a volatile market for most of 2019.
Facebook owns four of the largest social media platforms, including WhatsApp and Instagram. These platforms should help increase the company's ad revenue. Facebook is also looking to enter the streaming device space, which would compete directly with Roku, Apple TV, and Amazon Fire Stick.
Article continues below advertisement
Amazon stock has gained 15% year-to-date
Tech giant Amazon (AMZN) has underperformed the indexes in 2019. Its stock is up 15% year-to-date and was impacted by the overall market weakness. AMZN stock also fell after releasing its June quarter results.
Apple and Amazon were the first two companies to reach a $1 trillion valuation by market cap. Apple is valued at $987 billion while AMZN is worth $850.7 billion. Amazon has several key drivers, including its high-growth cloud business and its ad business. In our view, Amazon stock remains a solid long-term bet.
Netflix stock trails Apple and indexes this year
Leading streaming platform Netflix (NFLX) is down 2.7% in 2019 and has underperformed the broader indexes by a huge margin. Analysts and investors are concerned about the growing competition in the streaming market.
Netflix, Amazon Prime, and Hulu were the top players in the streaming market, a space that is becoming more crowded with the entry of Apple and Disney. AT&T's Warner Media plans to launch its streaming service in 2020.
Article continues below advertisement
Google has gained 16% in 2019
Shares of Google (GOOGL) have returned 16% this year, marginally underperforming the S&P 500. As with the other big tech firms, Google has been subject to privacy issues. However, the company's fundamentals remain strong.
Google's advertising revenue is expected to grow at a solid rate over the coming years. It is still the most frequently used search engine by a fair margin and is also gaining traction in the cloud computing segment.
Plus, Google is investing in high-growth verticals such as artificial intelligence and autonomous vehicles. It is a top player in the smart speaker space and continues to increase investor wealth.
Apple is trading at a discount of 3.6% to average estimates
While Apple has led the FAANG gains in 2019, its upward spiral indicates that the stock is trading close to analyst estimates. Apple stock has a 12-month average target price of $226.48, indicating an upside potential of 3.6%.
Shares of Facebook, Netflix, Amazon, and Google are trading at discounts of 32.8%, 45%, 33.8%, and 15.3% respectively, to their analyst 12-month average price target estimates.
We can see that Netflix has the most upside potential due to its tepid performance in the last 12 months. However, Netflix is also the riskiest among the FAANG stocks due to increasing competition and its relatively smaller size.