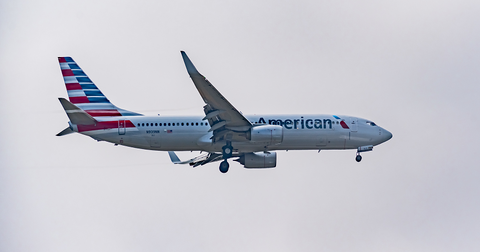 American Airlines Stock: Should Investors Buy It Now?
By Anirudha Bhagat

Updated
American Airlines (AAL) stock has fallen significantly this year so far. The stock has lost nearly 12% or approximately $1.9 billion in market capitalization YTD (year-to-date). At yesterday's closing price of $28.30, American Airlines stock currently trades near its five-year low of $24.23, which it reached on August 28.
AAL stock is down 52% from its five-year high of $59.08 attained on January 16, 2018. It is also down nearly 36% from the 52-week high of $43.89 reached on September 21, 2018.
American Airlines stock has underperformed the broader US market, as well as the iShares Transportation Average ETF (IYT). The Dow Jones and S&P 500 indexes have risen 16.2% and 20%, respectively, YTD. The IYT, which invests in Dow Jones transportation stocks, has gained 14.8% YTD.
American Airlines stock has lagged its top peers. Shares of United Airlines (UAL), Delta Air Lines (DAL), and Southwest Airlines (LUV) have gained 6.8%, 17.6%, and 18.5%, respectively, YTD.
Article continues below advertisement
Analysts changed stance on AAL stock
American Airlines has struggled to keep pace with its rivals this year. At the beginning of 2019, analysts were optimistic about American Airlines stock. However, its exposure to Boeing (BA) 737 MAX jets and the ongoing labor dispute with mechanics cast a shadow on its growth prospects.
Estimating the risks, several Wall Street analysts either downgraded American Airlines stock or trimmed their target prices. In January, nearly 74% of the 19 analysts covering American Airlines stock have a bullish stance, and the remaining analysts recommend holding it. None of them have a bearish view on the stock.
However, their perspective has changed following the 737 MAX grounding and uncertainty over its quick return to service. On September 19, two of the 20 analysts have turned bearish on American Airlines stock. Currently, 60% of 20 analysts are bullish, 30% have a neutral view, and the remaining 10% are bearish on the stock. Wall Street's average target price of $44.94 in January has decreased 15% to $38.35.
Article continues below advertisement
Ongoing troubles with American Airlines
Notably, Boeing's 737 MAX planes are facing a global flying ban since mid-March following two crashes within five months. American Airlines owns 24 MAX aircraft. Since mid-March, the airline has canceled over 10,000 flights due to the MAX grounding.
In the second quarter alone, AAL canceled 7,800 MAX flights, which resulted in a 0.8% YoY decline in overall capacity. The company disclosed that the MAX grounding impacted its Q2 pretax income by $175 million. It anticipates that the MAX flight cancellations could impact its fiscal 2019 pretax income by $400 million.
Southwest Airlines and United Airlines are also suffering from the MAX crisis. From mid-March until the end of June, Southwest canceled over 20,000 flights. United Airlines canceled 3,440 flights in Q2 due to the ban on MAX planes. The two companies together own 48 Boeing 737 MAX jets.
American Airlines has other worries too. The company is facing business disruptions due to an ongoing labor contract dispute with its mechanics. According to CNBC's August 14 report, between June 14 and August 13, the company faced nearly 950 flight cancellations, as mechanics slowed down their maintenance work.
Article continues below advertisement
What's ahead for AAL stock?
We believe that the MAX crisis and labor dispute are both temporary issues. So, we expect a sharp rise in American Airlines stock price when these problems resolved.
Moreover, the company is making successful progress in reducing flight cancellations due to the MAX grounding. The latest data compiled by OAG states that American Airlines' cancellation rate improved in August. In August, its cancellation rate was 2.7%, down from 3.2% in July. Therefore, we can expect a lower negative impact of the MAX crisis in the next few quarters.
In our opinion, some recent development on the labor contract front could give the company an upper hand in negotiations. Early this month, one of its mechanics was found guilty for sabotaging one of its planes with 150 people on board. Before this, a federal court has "issued a permanent injunction against American Airlines Group Inc's mechanics union," Reuters reported on August 12.
Additionally, American Airlines stock has an attractive valuation. The stock has a forward one-year PE valuation multiple of 5.8x, much lower than the industry average of 7.9x. American Airlines stock also trades at a significantly discounted valuation multiple against its top three peers. Southwest, United, and Delta have one-year forward PE multiples of 13x, 7.6x, and 8.3x, respectively.
JPMorgan Chase (JPM) analyst Jamie Baker also views that the current dip in American Airlines stock as a buying opportunity. According to the August 30 Dallas Business Journal report, Baker stated that "current-day American is similar to pre-merger Continental Airlines and post-merger United Airlines, who saw their stock price rebound after similarly dramatic declines with reliable consistency. Continental and United merged in 2010."
Baker stated, "The market has consistently been proven mistaken when delivering this level of shellacking." He added, "Those brave enough to step in have consistently been rewarded."