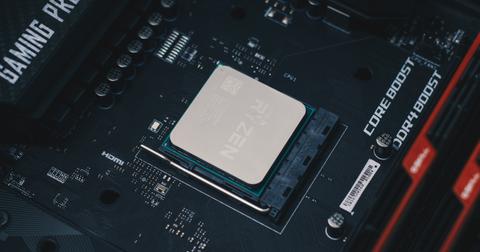 AMD Falls on Fears of a 7 nm Supply Shortage
By Puja Tayal

Updated
Today, Advanced Micro Devices (AMD) stock fell 1.8% after a rumor spread that its future 7 nm (nanometer) products could face supply constraints. The rumor began when DigiTimes, citing industry sources, stated that TSMC (TSM) had extended the production lead time for its 7 nm process from two months to six months. AMD manufactures all its 7 nm products at TSMC's foundries.
It's important to note that this is just a rumor, and DigiTimes has released its fair share of rumors that have turned out to be untrue. However, it's important to understand the implications of the rumor if it turns out to be true. The DigiTimes report states that TSMC's 7 nm production capacity is stretched, and it's struggling to meet demand. The shortage is particularly the result of orders for Apple's (AAPL) A13 chipsets used in its 2019 iPhone models. TSMC has been Apple's exclusive foundry partner for four years.
Article continues below advertisement
What does TSMC's manufacturing lead time mean?
The DigiTimes report makes no mention of AMD but states that TSMC is reportedly extending its production lead times for the 7 nm process. This news brings us to the question of how TSMC's lead times will affect AMD investors.
By definition, production lead time is the period between the receipt of an order and that order's shipment. AMD has contracted TSMC to manufacture its 7 nm Ryzen CPUs (central processing unit), Navi graphics cards, and EPYC Rome server CPUs. A PCGamesN article explained that the extension of production lead times doesn't affect existing contracts but does affect future contracts. AMD's current 7 nm products are safe from any supply shortage at TSMC because AMD's contracts likely have already secured TSMC's 7 nm capacity required for its existing products.
However, the PCGamesN article warned that AMD investors should be concerned about its future products and its need for extra capacity. A four-month extension in TSMC's lead time could delay the launch of AMD's 7 nm Ryzen Threadripper and Ryzen Mobile. TSMC's capacity constraints could also prevent AMD from extending the capacity for its existing 7 nm products.
Article continues below advertisement
What if the TSMC rumor is true?
If the above rumor turns out to be true, AMD might follow in Intel's (INTC) footsteps and prioritize the production of high-end EPYC server CPUs to maximize its revenue. AMD can't easily transfer 7 nm production to Samsung's 7 nm node. Its processors are complex, so switching to a different foundry is time-consuming and could affect quality.
Some AMD Ryzen 3000 processors face a supply shortage
Even before the TSMC rumor spread, some of AMD's Ryzen 3000 processors have been out of stock since their launch on July 7. According to a Tom's Hardware article on August 26, the Ryzen 7 3700X and Ryzen 9 3900X CPUs were made available in small quantities and immediately sold out. The shortage inflated the prices of these CPUs on Amazon and eBay. In comparison, other Ryzen 7 and 5 CPUs were plentiful.
Article continues below advertisement
Tom's Hardware deduced that the possible reason for the shortage of 3700X and 3900X CPUs could be their unique supply chain. These CPUs use GlobalFoundries' 12 nm input/output chiplet and one or two of TSMC's 7 nm core chiplets. As AMD's EPYC Rome uses a larger number of 7 nm core chiplets, it could have created a shortage for Ryzen CPUs.
Will AMD launch Ryzen 9 3950X in September? 
The TSMC supply shortage rumor and limited stock of Ryzen 9 CPUs raises questions about the September launch of the Ryzen 9 3950X. Back in June at E3 2019, AMD announced its plans to launch its Ryzen 9 3950X Desktop CPU in September. At that time, AMD stated that the new 16-core, 32-thread CPU would be priced at $750.
We're now in September, and the rumor mills are churning about when AMD's 3950X will hit the market. Last week, citing online German store Digitec, The Inquirer reported that the 3950X would arrive on September 30 and would cost around $1,120. However, the German retailer later removed the rumor. Just by looking at the CPU's price, we can guess that the rumor is untrue.
Article continues below advertisement
Yesterday, an alleged image of the Ryzen 9 3950X appeared in a Reddit post titled "From Russia with Love." The title implies that Russia is the source of the rumor. However, German site ComputerBase said that the image was three months old. The image was originally from E3, where AMD unveiled the CPU. All these rumors are just creating noise before the product's launch.
AMD stock is sensitive to 7 nm products 
If the TSMC rumor is true and AMD delays the Ryzen 9 3950X launch because of it, AMD stock could fall in the mid- to high single digits. On the flip side, if AMD launches Ryzen 9 3950X in September, its stock could rise in the low to mid-single digits.