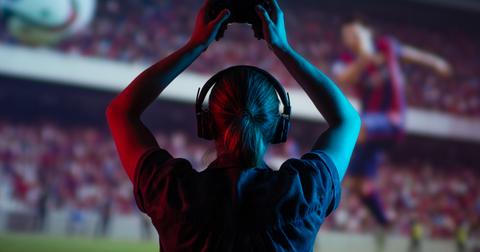 Everything You Need to Know about eSports Right Now
By Adam Rogers

Updated
The esports industry is thriving. It's experienced significant growth in the last two years. It's also still in the nascent stage, which means it has tremendous growth potential going forward.
In this esports series, we intend to closely examine the esports industry in terms of expected growth, major players, games, and much more. Right now, let's take a look at the expected growth in esports viewership and the total available market in this space.
Article continues below advertisement
eSports industry will reach $1 billion in 2019
According to gaming research company Newzoo, spending in the global esports industry will exceed $1 billion this year. This figure reflects a rise of 26.7% YoY (year-over-year). The report states that advertising, sponsorship, and media rights will account for close to 82% of total industry spending, amounting to $897.2 million, in 2019.
Other revenue streams include merchandise and ticket sales and game publisher fees. Total esports viewership is expected to grow 15% YoY to 453.8 million, and the total esports audience is expected to hit 645 million by 2022.
Newzoo expects the average revenue per fan to grow to $6.02 by 2022. This expectation means esports spending could reach close to $4 billion by the end of the forecast period. However, Goldman Sachs has a more conservative estimate for esports viewership. The investment bank expects it to reach 300 million by 2022.
According to Goldman's report, "In 2018, we estimate the global monthly audience for esports will reach 167mn people, based on data from NewZoo, larger than that of Major League Baseball and the National Hockey League."
Article continues below advertisement
It adds, "We estimate the total online population is over 3.65bn people globally, to go along with 2.2bn gamers, but esports viewers represent just 5% of the online population TAM, which suggests that there should be plenty more runway for audience growth. By 2022, we estimate the esports audience will reach 276mn, similar in size to the NFL today."
Games such as Fortnite and PUBG to drive viewership growth
Goldman expects free-to-play battle royale games such as Fortnite and PUBG to drive esports viewership. The esports audience is expected to grow at an annual rate of 14% in the next five years.
Online gaming streaming platform Twitch (AMZN) continues to increase its viewership at a rapid pace. In the second quarter, Twitch streamed 2.72 billion hours of games on its platform. That's 72.2% of total online gaming viewership, according to TechCrunch.
Other top gaming platforms include YouTube Live (GOOGL), Facebook Gaming (FB), and Mixer, which account for 19.5%, 5.3%, and 3% of the streaming market, respectively. Total gaming hours watched across these platforms amounted to 3.77 billion in the second quarter.
Other key metrics for Twitch
We've seen how Twitch is the most popular streaming platform for gaming. According to a report, Twitch's global website ranking stands at 31, with average viewing minutes totaling 46 billion per month. In comparison, Netflix ranks just above Twitch at 21, according to Alexa data. In 2017, viewers watched over 355 billion minutes (or 5.91 hours) on the Twitch platform.
The esports market is booming. It's quickly becoming an alternative to other forms of online entertainment, rivaling streaming giants such as Netflix and social media platforms such as Facebook.
Amazon acquired Twitch for $970 million in 2014. YouTube has also been able to drive significant traffic and increase its viewership. You know the esports space is set to explode when tech giants such as Amazon, Google, Facebook, and Disney are looking to get in on the action.