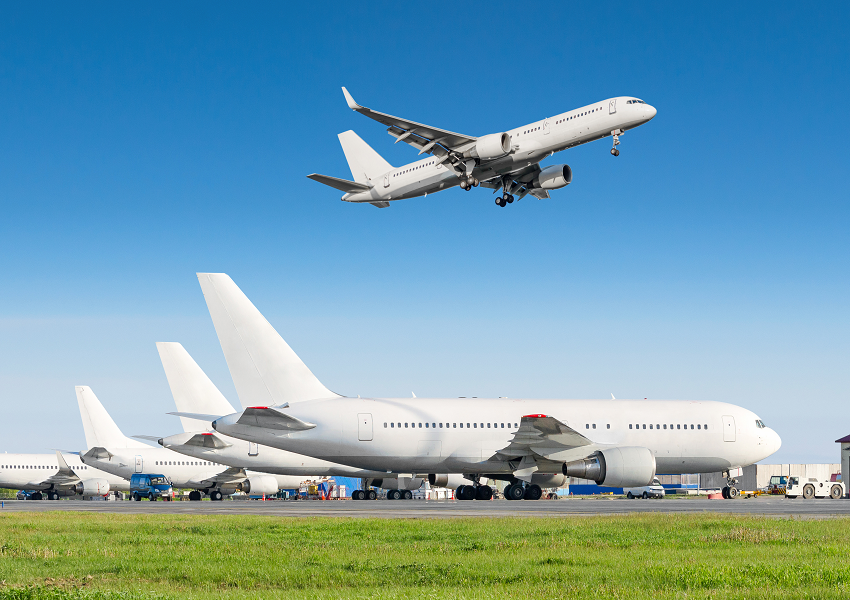 Airline Stocks: Bank of America Analyst Is More Selective
By Anirudha Bhagat

Sep. 24 2019, Updated 2:36 p.m. ET
Bank of America (BAC) analyst Andrew Didora has become more selective on airline stocks, according to a report from TheStreet on Monday. He upgraded Southwest Airlines (LUV). However, he downgraded American Airlines (AAL) and Spirit Airlines (SAVE). Didora argued that due to the current situation with slowing demand and assuming a higher capacity next year, investors should be more selective when investing in airline stocks.
Article continues below advertisement
Airline stocks moving forward
Didora expects a significant rise in the capacity next year after Boeing's (BA) 737 MAX planes return to service. Notably, the grounding of the 737 MAX planes hurt the airline industry's capacity this year. The 737 MAX planes have faced a worldwide flying ban since mid-March following two fatal crashes within five months.
Together, Southwest Airlines, American Airlines, and United Airlines (UAL) own 72 MAX aircraft. According to an OAG report on August 6, airlines would face 6.3 million capacity losses if the 737 MAX planes are grounded until October. Industry experts think that airlines could resume MAX services in early 2020.
Therefore, Didora thinks that airlines might struggle to improve unit revenues after MAX aircraft return early next year. However, he thinks that airlines with a better cost structure will be able to improve their margins despite the challenging operating environment.
In the client note, Didora said, "We are becoming increasingly selective on the airlines as many of our demand indicators are slowing at a time when domestic capacity is accelerating to nearly +6% in 2020 vs sub-4% in 2019 as the 737 MAX returns to service," according to a report from TheStreet. He also said, "As we do not expect unit revenues to accelerate in this environment, we prefer the airlines that have the cost structure to drive margin expansion, like Buy-rated UAL and LUV."
Article continues below advertisement
Bank of America's rating revisions
Didora upgraded Southwest Airlines to "buy" from "neutral." He increased the target price 13% to $65. Didora thinks that Southwest Airlines will benefit the most when Boeing's 737 MAX planes resume services. The company has an attractive cost structure compared to American Airlines. A modest debt level and a better relationship with employees would help Southwest Airlines expand its margins despite a challenging business environment next year.
In contrast, Didora downgraded American Airlines to "neutral" from "buy." He lowered the target price to $31 from $38. Didora cited the company's high debt level and ongoing labor disputes as the main reasons behind the rating downgrade. He expects a significant rise in American Airlines' costs in 2020.
Apart from American Airlines, Didora lowered his rating on Spirit Airlines. He has a "neutral" stance on the stock compared to the earlier "outperform" rating. He also cut the target price on the stock to $39 from $47.
Didora stated that Spirit Airlines is "most at risk from the return of the 737 MAX," according to TheStreet. He pointed out that the airline's "network overlap with LUV (over 75% of its domestic capacity)." Therefore, Didora thinks Spirit Airlines will have a hard time expanding margins next year.
Article continues below advertisement
The analysts polled by Reuters have provided a consensus "buy" rating on Southwest Airlines and American Airlines. The average target price on Southwest Airlines and American Airlines are $60.82 and $37.71, respectively. Analysts' target price for both stocks signifies a return of 11.6% and 37.1%, respectively. Also, analysts have a consensus "hold" recommendation on Spirit Airlines with a target price of $46.86. The average target price reflects a potential gain of 25.8% over the next year.
Airline stocks' YTD performance
So far, this year hasn't gone well for most US airline stocks. Overall, airline stocks have underperformed the broader market. Global trade slowdown concerns and uncertainty about US-China trade negotiations have kept investors slightly cautious about airlines' growth prospects.
Also, airlines have faced several business disruptions this year due to unfavorable weather, the partial government shutdown, and Hong Kong protests. The global flying ban on Boeing's 737 MAX jets raised concerns about various airlines' growth prospects.
Article continues below advertisement
Airline stocks took a severe hit last week after the drone strike on Saudi Arabia's oil refinery on September 14. The attack spread fears of a rise in geopolitical tension and increased fuel prices. The drone strike removed nearly 5% of the daily global oil output. Crude oil future prices are still trading 7% higher than the day before the Saudi Arabia oil attack. Since fuel accounts for nearly 25% of airlines' operating expenses, higher crude prices would impact their margins.
The US Global Jets ETF (JETS), which invests in the cargo and passenger airlines, has risen 6.1% YTD (year-to-date). The ETF has underperformed the broader market. The Down Jones and the S&P 500 have risen 15.5% and 19.3%, respectively, YTD.
Southwest Airlines and Delta Air Lines (DAL) are the only two major US airline stocks that have outperformed the Dow Jones. Southwest Airlines has a return of 17.2% YTD, while Delta Air Lines has a return of 16.3% YTD. Spirit Airlines has been the worst performer. The company has fallen 35.7% YTD. Meanwhile, American Airlines stock has fallen 14.4% YTD.