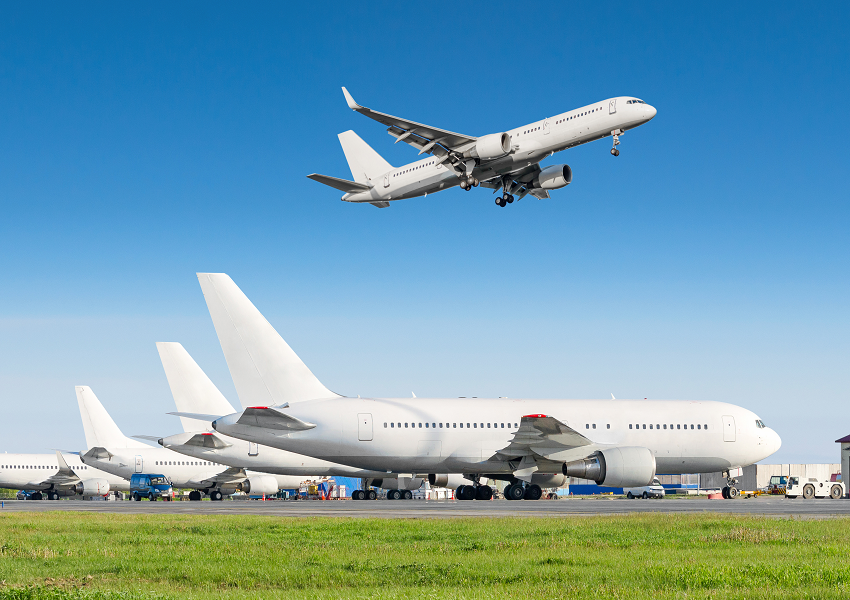 What Dragged Boeing Stock Down 6.3% in July?
By Anirudha Bhagat

Aug. 1 2019, Published 12:21 p.m. ET
Boeing (BA) stock continued its fall last month, losing another 6.3% of its market cap. BA fell mainly after it reported dismal second-quarter results on July 24. Investors also turned cautious after Boeing warned of a production shutdown for its 737 MAX planes if the grounding was to drag on.
Boeing stock has fallen significantly since the Ethiopian Airlines crash on March 10. Since then, it's lost 19.3% of its market value. The stock's YTD (year-to-date) gain has also fallen to 5.8% as of Wednesday from approximately 31% as of March 8. Boeing was the Dow 30 component's top performer until March 8, but it's now fallen to 22nd place.
Article continues below advertisement
Additionally, its YTD return is much lower than the gains of the broader market and the iShares U.S. Aerospace & Defense ETF (ITA). The NASDAQ, the S&P 500, and the Dow Jones have gained 23.2%, 18.9%, and 15.2%, respectively, YTD. The ITA ETF's portfolio consists of companies that manufacture, assemble, and distribute aerospace and defense equipment. The ETF has gained 24.5%.
Boeing reports a massive loss in the second quarter
It's not a mystery why the aircraft manufacturer's share prices have fallen. Regulators around the world have banned the 737 MAX jet from flying following the Ethiopian Airlines crash. Air carriers have denied taking deliveries of the model until safety concerns are cleared.
The fiasco has been hurting Boeing's commercial aircraft deliveries as well as its financial results. In the second quarter, the company's shipments for its 737 series aircraft fell 82.5% YoY (year-over-year) due to frozen deliveries for its MAX jets. As a result, its overall commercial plane deliveries fell 54% YoY to 90 units in the quarter. MAX accounts for approximately 70% of Boeing's total aircraft shipments and contributes 30% of its operating profit.
The massive decline in commercial aircraft shipments severely hurt Boeing's second-quarter results. The company's second-quarter revenue plunged 35% YoY to $15.75 billion and missed analysts' estimate of $18.55 billion.
Article continues below advertisement
During the quarter, it recorded an after-tax charge of $4.9 billion related to its MAX aircraft problem. The company revealed the cost was an estimated concession for MAX customers for their revenue and profit losses due to the grounding. Boeing stated that the after-tax charge had reduced its second-quarter revenue and pretax income by $5.6 billion.
Due to lower revenues and the after-tax charge, the company reported EPS of -$5.82 for the second quarter. It recorded adjusted EPS of $3.33 in the second quarter of 2018. Additionally, its quarterly earnings missed Wall Street expectations. Analysts polled by Reuters had projected EPS of $1.87.
Boeing warned that it could halt MAX production
During Boeing's second-quarter earnings conference call, CEO Dennis Muilenburg said the company might stop MAX production if the grounding continues for an extended period of time. Although Muilenburg continues to believe the company will receive regulatory approval by early October, he hasn't provided any guarantees. He revealed that management is looking for alternatives if the flying ban on MAX planes drags on. The company reduced the monthly output of MAX planes by 19% to 42 units in April.
Muilenburg said during the call, "Those alternatives could include different production rates" or "temporary shutdown of the line." However, he added that production shutdown is "not something we want to do, but an alternative that we have to prepare for."
Muilenburg's comments have spread fresh fear about Boeing's near-term growth prospects. If the grounding of MAX planes continues, it could further affect the aircraft manufacturer's financial results in the coming quarters.
Airlines demanding concessions for MAX fiasco
Boeing's MAX fiasco is negatively affecting the US airlines that own the troubled model jets. Together, United Airlines (UAL), American Airlines (AAL), and Southwest Airlines (LUV) own 72 MAX aircraft. These airline operators have faced massive flight cancellations due to the grounding of Boeing's MAX planes.
Since mid-March, Southwest has registered over 20,000 flight cancellations due to the troubled MAX aircraft. United Airlines and American Airlines recorded 3,400 and 7,800 flight cancellations in the second quarter.
Due to massive flight cancellations, the three major US air carriers reported sluggish top and bottom line growth in the second quarter. The companies are demanding compensation from Boeing for their revenue and profit losses due to the flight cancellations.