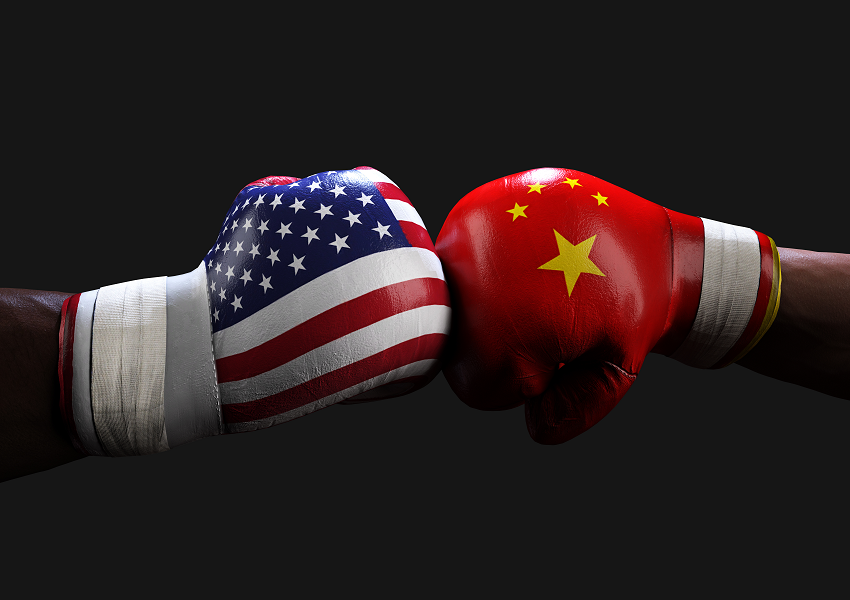 Trade War Escalated, Airline Stocks Fell
By Anirudha Bhagat

Aug. 26 2019, Published 10:57 a.m. ET
US airline stocks fell drastically on August 23. The industry seems to be bearing the brunt of the escalating trade war and sluggish economic growth concerns. Although the global economic factors don't have a direct impact on the airline industry, they have an impact in the long run.
Shares of most US air carriers closed in the red on August 23. Notably, American Airlines (AAL) stock fell the most with a decline of 4.2%. United Airlines (UAL), Delta Air Lines (DAL), and Southwest Airlines (LUV) fell 3.5%, 3%, and 1.2%, respectively. The iShares Transportation Average ETF (IYT) fell 3.3%. IYT invests in Dow Jones US transportation stocks. About 20% of IYT's portfolio consists of passenger airline companies.
Article continues below advertisement
Tense trade relations between the US and China could have a negative impact on airlines' business traveler traffic in the long run. Also, weaker trade relations could trigger a recession in the global economy. A recession would have a negative impact on the job market. A soft job market means less disposable income, which leads people to cancel or postpone their vacation plans.
Escalating US-China trade war
Rising trade tensions between the US and China played a crucial role in the stock market plunge. On August 23, the two countries imposed hefty tariffs on billion dollars' worth of each other imported goods.
The first announcement came from Chinese officials on August 23, according to a CNBC report. China will levy 5%–10% duties on $75 billion worth of US goods. The tariffs will be imposed in two tranches effective on September 1 and December 15. China will also enforce a 25% tariff on US imported cars and 5% on auto parts and components effective on December 15.
Article continues below advertisement
Soon after China's announcement, President Trump retaliated with more tariffs. According to a New York Times report, President Trump announced additional tariffs on $250 billion of Chinese goods to 30% from 25%. He also threatened to raise taxes from 10% to 15% on $300 billion worth of Chinese goods. The taxes are supposed to start on September 1.
On August 23, President Trump tweeted, "China should not have put new Tariffs on 75 BILLION DOLLARS of United States product (politically motivated!)." He also tweeted, "Our great American companies are hereby ordered to immediately start looking for an alternative to China, including bringing your companies HOME and making your products in the USA."
Why the trade war?
Since he was elected in 2016, President Trump has been trying to lower the US trade deficit with China. The trade deficit reached approximately $378 billion in 2018. He also wants to make structural trade changes between the world's two largest economies.
President Trump thinks that China should halt intellectual property theft and stop giving special subsidies to its state-owned companies. The Trump administration wants China to end the technology sharing rule it imposed on US companies.
Since the beginning of 2019, President Trump has used tariffs to pressure China. So far, China has imposed duties on billions of dollars worth of US imports.
Article continues below advertisement
Broader market fell
The trade war between the US and China will likely escalate more. Neither country is ready to back down. The latest tariff announcements triggered a massive sell-off in the broader market on August 23. Investors are concerned that the escalating trade war could impact global economic growth.
The three major US indexes, the NASDAQ, the S&P 500, and the Dow Jones fell 3%, 2.6%, and 2.4%, respectively. Except for Boeing (BA), all of the Dow Jones 30 components registered an intraday fall during trade on August 23. Boeing stock closed 0.5% higher in anticipation of getting regulatory safety approval for its troubled 737 MAX planes in October.
Article continues below advertisement
On August 23, technology and industrial stocks fell the most. They have more exposure to the Chinese market. In the technology sector, Apple (AAPL), IBM (IBM), and Microsoft (MSFT) stocks fell 4.6%, 3.5%, and 3.2%, respectively. Together they account for nearly 12% of the weight in the Dow Jones 30 component. The Technology Select Sector SPDR Fund (XLK) fell 3.3% on August 23. XLK invests in the S&P 500 tech stocks.
In the industrial sector, 3M (MMM), Caterpillar (CAT), and United Technologies (UTX) stocks fell 3.1%, 3.3%, and 3.6%, respectively. Together, they account for 10.4% of the weight in the Dow Jones 30 component. The Industrial Select Sector SPDR Fund (XLI) fell 2.7% on August 23. XLI invests in the S&P 500 industrial sector stocks.