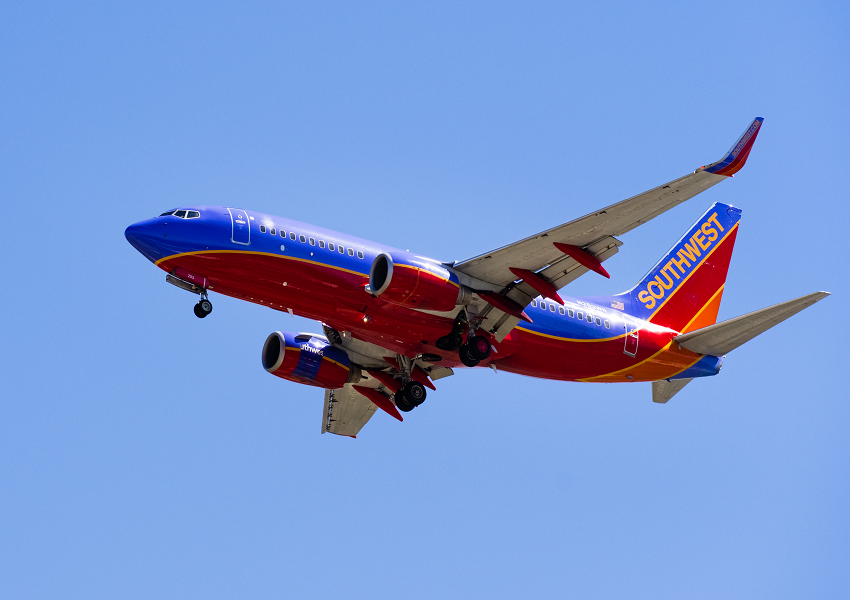 Southwest Stock Gains after Wolfe Research's Upgrade
By Anirudha Bhagat

Aug. 19 2019, Updated 11:25 a.m. ET
Southwest Airlines (LUV) stock gained 3.3% last Friday after a prominent Wall Street analyst upgraded his rating on the stock. On August 16, Wolfe Research analyst Hunter Keay raised his rating on the stock to "outperform" from "peer perform." CNBC revealed Keay's views during its Halftime Report traders' debate show last Friday.
The analyst upgraded his rating "on a flight to quality concept." He pointed out that Southwest has a strong brand affinity and that its cost trends are moving in the right direction.
Article continues below advertisement
Southwest Airlines is the world's largest low-cost carrier. US airlines have reported strong corporate and leisure passenger demand since the beginning of 2019, mainly in the domestic market. The primary drivers of air-passenger traffic in the US market are a strong job market and a steady rise in wages. So, we believe that Southwest Airlines' low-cost services could help it capitalize on the growing opportunities in the domestic market.
Presently, Keay has a $57 target price on Southwest Airlines, signifying a 14.5% upside potential from its August 16 closing price of $49.79. Wolfe's target price is slightly lower than the consensus target price of $59.35 set by analysts polled by Reuters. The consensus price target suggests a potential rise of 19% over the next year.
Further, analysts polled by Reuters have a consensus "hold" rating on the stock. About 35% of the analysts covering the stock have a bullish recommendation. Nearly 55% of these analysts recommend a "hold," and the remaining 10% have a bearish stance.
Article continues below advertisement
What could drive Southwest stock higher?
In our view, the return of Boeing's (BA) 737 MAX planes could be a key driver for Southwest stock moving higher this year. Notably, 737 MAX jets have faced a worldwide flying ban since mid-March following two deadly accidents within five months.
The global flying ban led to massive flight cancellations over the last five months, disrupting the airline's business operations. Southwest owns 34 MAX jets. During its second-quarter earnings results, Southwest Airlines disclosed that the MAX grounding led to over 20,000 flight cancellations. As a result, its year-over-year revenue growth rate slowed in Q2 to 2.9% from the mid-to-high single-digit increase it had recorded in the preceding three quarters.
However, we believe that Southwest's strong passenger traffic more than offset the negative effect of the 737 MAX grounding. The airline's passenger yield increased 4.2% in the second quarter, while its load factor improved by 1.7% YoY. Also, the launch of new routes, including the Hawaiian Islands in March, helped garner additional revenues during the last quarter.
Further, we believe that Boeing could comprise most of Southwest Airlines' loss of revenues and profit due to the MAX grounding. During the second quarter, Boeing recorded an after-tax charge of $4.9 billion in connection with the estimated compensation for airlines.
Article continues below advertisement
Southwest's peers
Among Southwest Airlines' peers, United Continental (UAL) and American Airlines (AAL) were also hurt by Boeing's troubled MAX jets. United has 14 MAX planes, and American Airlines owns 24 737 MAX aircraft. During the second quarter, United and American faced 3,440 and 7,800 flight cancellations, respectively.
As Boeing believes it could receive FAA safety approval for the MAX aircraft in October, airlines might be able to resume MAX services by late December. Once the FAA lifts the flying ban, US air carriers could continue their expansion plans and significant seating capacity additions.
Stock performance
The year so far hasn't gone well for Southwest Airlines (LUV) stock. LUV stock has grappled with several issues, which overshadows its upbeat back-to-back quarterly earnings results. An increase in unscheduled maintenance work, the partial government shutdown in January, and the Boeing MAX grounding have caused massive business disruptions so far this year.
Southwest Airlines stock has gained 7.1% year-to-date. Among the major US indexes, the Dow Jones, the S&P 500, and the Nasdaq have risen 11%, 15.2%, and 19%, respectively, year-to-date. Southwest Airlines stock also underperformed the iShares Transportation Average ETF (IYT), which allocates 18.2% of its fund to the passenger airline industry. The ETF is up 8.8% YTD.
Nonetheless, Southwest's year-to-date underperformance has made the stock's valuations attractive. Southwest Airlines stock currently trades at a discounted valuation multiple compared with several other players in the industry. The stock's current PE multiple is 11.5x. Among the other US airlines, Alaska Airlines (ALK), JetBlue Airways (JBLU), and Allegiant Travel (ALGT) have PE multiples of 14.8x, 13.7x, and 12.6x, respectively.