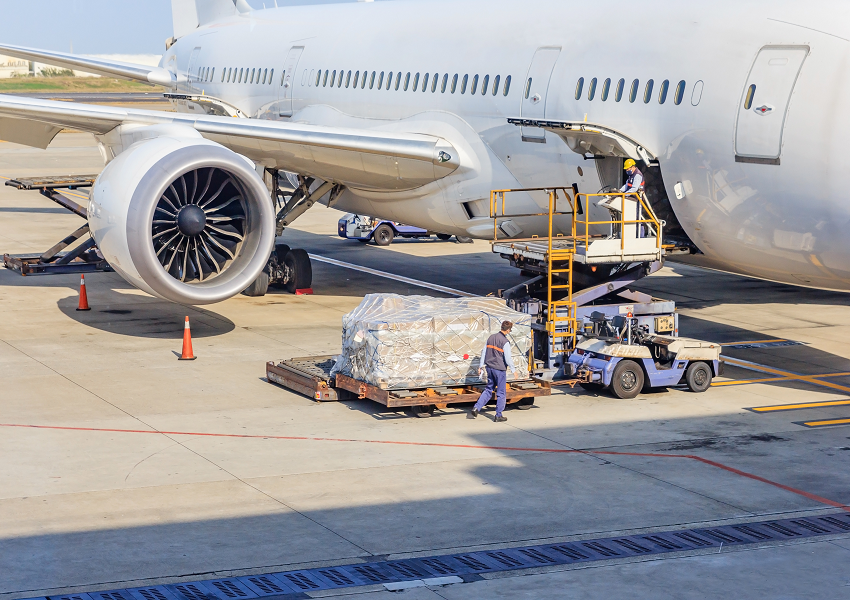 Cargo Stocks Fell Due to Trump's New Tariff
By Anirudha Bhagat

Aug. 2 2019, Updated 8:29 a.m. ET
On Thursday, air cargo companies' shares fell drastically due to the escalating trade war between the US and China. President Trump threatened to impose a 10% tariff on another $300 billion Chinese goods.
Article continues below advertisement
Why did cargo stocks fall?
The cargo industry faced sluggish logistics volumes, which hurt their financial results in recent quarters. The sector thinks that the situation might get worse due to President Trump's new tariff announcement on Chinese goods. The iShares Transportation Average ETF (IYT) fell 2.6% after the news on Thursday. IYT has allocated about 20% of its fund in the Air Freight and Couriers Services industry.
Atlas Air Worldwide Holdings (AAWW) provides outsourced aircraft and aviation operating services. The company's shares fell the most. The stock fell nearly 25% on Thursday. Atlas Air Worldwide said that softer demand due to trade concerns hurt its second-quarter results. The company's revenues and earnings missed analysts' expectations.
During Atlas Air Worldwide's second-quarter earnings release on Thursday, the company's CEO, William J. Flynn, said, "Revenue and earnings in the second quarter were below our expectations, as air cargo volumes and yields were affected in the near term by the widely reported impact of tariffs and trade tensions."
Article continues below advertisement
Shares of other major air cargo companies including FedEx (FDX) and UPS (UPS) fell 4.2% and 2.1%, respectively. FedEx reported dismal fourth-quarter results on June 26. The company recorded its slowest YoY revenue growth in the last 15 quarters. FedEx blamed the global trade and production slowdown as the main reason behind its sluggish top-line growth.
UPS provided a similar reason for its International segment's dismal second-quarter performance. The company revealed that the revenues from its International segment fell 2.7% YoY. The global trade slowdown hurts the logistic volumes.
Trump's new tariff  
The new duties will be effective on September 1. President Trump also warned that the tariff is for a short-term period. He could extend the tariff beyond 25%. However, additional hikes will depend on trade negotiation developments with Chinese officials. The decision was made after Chinese and US officials made little progress during the discussions in Shanghai earlier this week. However, both of the parties agreed to another round of discussions in early September.
Article continues below advertisement
Trump's Twitter comments suggest that the action was in response to China's efforts to renegotiate the deal that the two countries discussed three months ago. President Trump, on his Twitter account, said, "We thought we had a deal with China three months ago, but sadly, China decided to re-negotiate the deal prior to signing." He also said, "More recently, China agreed to buy agricultural product from the U.S. in large quantities, but did not do so."
The US government has raised tariffs on Chinese goods for the second time in the last three months. On May 10, President Trump imposed a 25% duty on $250 billion worth of Chinese goods. In retaliation, China also raised tariffs on $60 billion worth of US imports.
Since 2016, President Trump has been aggressively trying to pressure China to reduce the trade surplus. Notably, the US trade deficit with China reached nearly $378 billion in 2018. President Trump wants to make structural trade changes between the two countries to reduce the US trade deficit. He also wants China to stop intellectual property theft and restrain itself from giving special subsidies to its state-owned companies.
Broader market fell
The trade war between the world's two largest economies entered a new phase. The trade war will likely escalate. Neither country is ready to back down. President Trump's latest tariff announcement triggered a massive sell-off in the broader market. Investors are concerned that escalating trade tensions could impact global economic growth.
The three major US indexes, the Dow Jones, the Nasdaq, and the S&P 500, fell 1.1%, 0.8%, and 0.9%, respectively. Major US companies, which have greater business exposure in the Chinese market, saw a massive decline in the stock price. Boeing (BA), Apple (AAPL), and Caterpillar (CAT) shares fell 2%, 2.2%, and 3.7%, respectively.