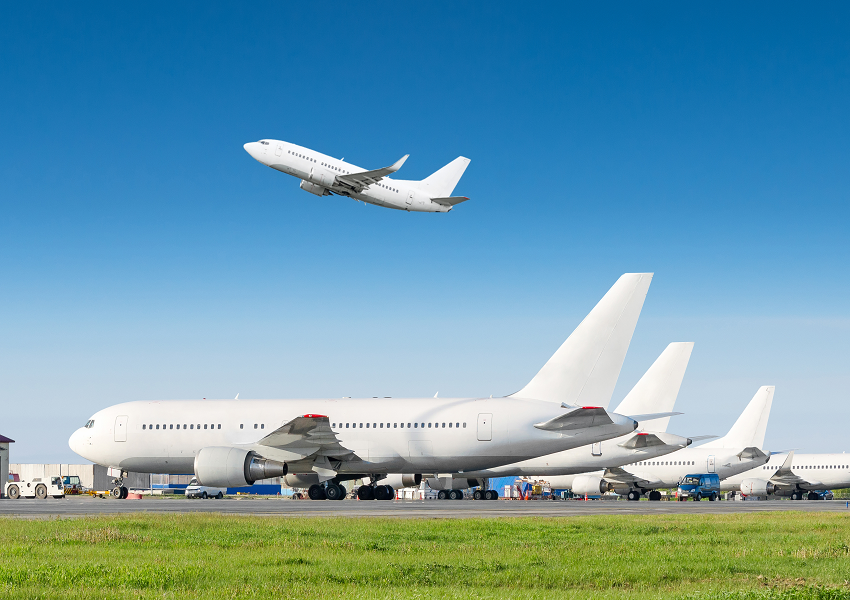 Boeing's Deliveries Fall Behind Airbus's Due to MAX Crisis
By Anirudha Bhagat

Aug. 14 2019, Published 10:30 a.m. ET
The ongoing problems with 737 MAX series planes have continued to impact Boeing's (BA) commercial aircraft deliveries. The aircraft manufacturer has recorded zero shipments for its MAX jets for the fourth straight month. As a result, the company reported a massive YoY (year-over-year) decline in its July commercial aircraft shipments.
Last month, the company's overall shipments plunged 51% YoY to 19 jets from 39. In this year's first seven months, Boeing shipped 258 aircraft, down 38% YoY from 417. Airlines have denied MAX deliveries following two deadly accidents within five months. MAX jets account for about 70% of Boeing's total aircraft deliveries and nearly 30% of its overall operating profit. At the end of July, Boeing had over 4,400 unfilled orders for its MAX series jets.
Southwest Airlines (LUV), the largest MAX customer, has placed orders for 280 planes, and American Airlines (AAL) and United Airlines (UAL) have ordered 100 each. Boeing has delivered 34 of these orders to Southwest, 24 to American, and 14 to United.
Despite the frozen shipments, Boeing has continued producing 737 MAX planes, but at a slower rate. In April, it lowered the monthly output of the troubled jets to 42 units from 52.
Article continues below advertisement
Boeing lags behind Airbus
The MAX crisis has proven a boon for Airbus. The European planemaker has surpassed Boeing in July and January–July aircraft deliveries. The American planemaker has outpaced its European rival in commercial aircraft deliveries for eight years. However, the scenario is most likely to change this year. Last month, Airbus delivered 69 jets, while Boeing delivered 19. In this year's first seven months, the European planemaker shipped 458 aircraft.
Airbus has also remained well ahead of Boeing in the order race. The company recorded 33 net orders in July and 79 from January through July. In comparison, Boeing reported 31 net orders for commercial jets in July. In this year's first seven months, Boeing has net negative orders of 88 aircraft, mainly due to 200 MAX order cancellations by India's bankrupt Jet Airways.
Following the worldwide flying ban on MAX aircraft, Boeing has not received a single order for its troubled jet. In late June, it announced a deal with International Airlines Group for 200 MAX planes at a list price of $24 billion. However, that was only a letter of intent, not a firm order.
Article continues below advertisement
Boeing MAX crisis financial impact
In addition to impacting Boeing's commercial airplane deliveries, the 737 MAX fiasco hurting it financially. The company's total commercial aircraft shipments fell 54% YoY to 90 units in the second quarter, dragging down its revenue by 35% YoY to $15.75 billion. It missed analysts' expectation of $18.55 billion.
The company recorded its largest-ever quarterly loss, with EPS of -$5.82. During the second quarter, Boeing's after-tax charge was $4.9 billion. The charge reflects the estimated compensation for airlines for their foregone revenue and profit due to the MAX grounding. The after-tax charge reduced Boeing's second-quarter revenue and pretax income by $5.6 billion.
Delays in getting safety approval for MAX jets could impact Boeing's overall commercial aircraft shipments even more. The company expects to receive regulatory safety approval by October. However, industry experts think the MAX grounding could stretch to January 2020.
Boeing is also looking at its alternatives if the MAX grounding were to continue for a longer time. During the company's Q2 earnings conference call, management discussed reducing or shutting down MAX production if the flying ban drags on. CEO Dennis Muilenburg said, "Those alternatives could include different production rates" or "temporary shutdown of the line." However, he clarified that production shutdown is "not something we want to do, but an alternative that we have to prepare for."
Stock performance
Muilenburg's comments regarding MAX's production cut have spread fresh fears about the aircraft manufacturer's near-term growth prospects. The prolonged grounding of troubled planes could continue to impact Boeing's financial results in future quarters. Since the company's Q2 report on July 24, its stock has fallen nearly 11%.
Additionally, since the Ethiopian Airlines crash on March 10, Boeing stock has fallen over 21%. Its YTD (year-to-date) gain had eroded to 3.2% as of yesterday from nearly 31% as of March 8. The Dow Jones and S&P 500 have risen 12.7% and 16.7%, respectively.
Boeing's YTD gain is also significantly lower than that of the iShares U.S. Aerospace & Defense ETF (ITA). The ETF, which has exposure to companies that assemble, manufacture, and distribute aerospace and defense equipment, has risen 23.9% YTD.