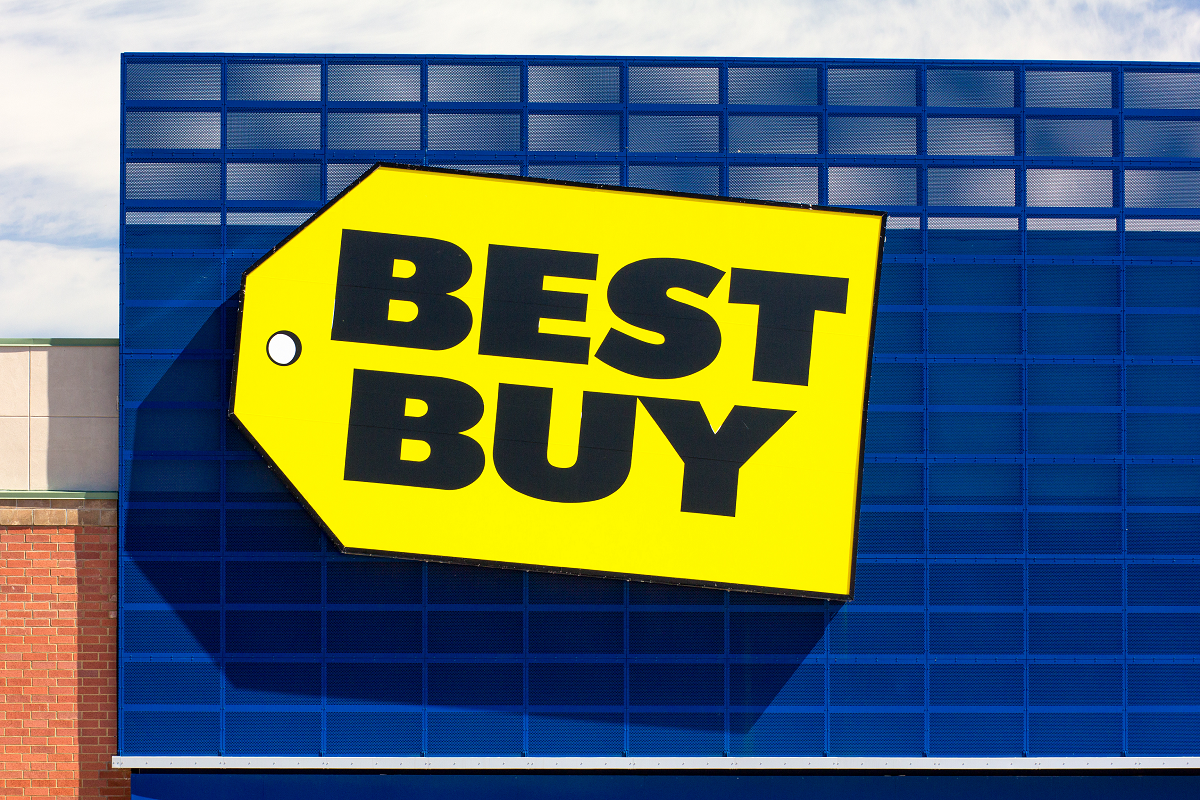 Best Buy Beat Q2 Earnings Estimate, Tariffs Hurt Outlook
By Amit Singh

Aug. 29 2019, Published 10:53 a.m. ET
Best Buy beat its second-quarter earnings estimate by a wide margin.
The stock fell. Higher tariffs hurt the outlook.
Best Buy (BBY) stock fell more than 9% this morning despite the company beating analysts' EPS estimate by a wide margin. The company raised its fiscal earnings outlook. However, Best Buy's lower-than-expected comparable sales guidance irked investors.
Higher tariffs caused Best Buy to narrow its comparable sales growth outlook. Now, Best Buy expects its comps to increase 0.7%–1.7%. Previously, the company expected its comps to increase 0.5%–2.5%. According to Reuters, analysts expected Best Buy's comps to increase 2% in fiscal 2020.
Article continues below advertisement
Best Buy will likely take a hit from higher tariffs on electronic goods, which will go into effect on December 15. Besides the disappointing outlook, Best Buy missed analysts' sales estimate in the second quarter. The company's comps growth also fell short of analysts' expectation, which didn't sit well with investors.
Best Buy's second-quarter earnings
Best Buy reported revenues of $9.54 billion—up 1.7% YoY (year-over-year). The comparable sales rose 1.6% on top of 6.2% growth witnessed in the second quarter last year. Overall, the company's growth is encouraging. However, the company's revenues and comps lagged analysts' expectations.
Analysts expected Best Buy to report revenues of $9.56 billion. Meanwhile, analysts expected the company's second-quarter comps to increase by 2.1%.
Best Buy's domestic revenues increased by 2.1% to $8.82 billion, driven by a 1.9% rise in comps and benefits from GreatCall acquisition. The segment's gross margin improved by 20 basis points to 24%, driven by acquisition. However, the increase in supply-chain costs remained a drag.
The company's international revenues fell 3.4%, which reflected a 1.9% decline in its comps and currency volatility. The segment's gross margin rate improved by 70 basis points to 23.8%.
Article continues below advertisement
Improved sales and gross margin expansion drove Best Buy's second-quarter earnings. The lower adjusted effective tax rate and share repurchases boosted the company's EPS. Best Buy posted adjusted earnings of $1.08—up 18.7% YoY. Also, the adjusted EPS beat analysts' expectations of $0.99 by a wide margin.
Outlook
The company expects to post revenues of $43.1 billion–$43.6 billion in fiscal 2020. Previously, the revenues were projected to be $42.9 billion–$43.9 billion. Now, the adjusted EPS will likely be $5.60–$5.75. Earlier, the guidance was $5.45–$5.65.
While Best Buy raised its earnings outlook, challenges from higher tariffs will likely pressure the stock. Notably, the stock took a massive hit following President Trump's tweet on August 1. President Trump announced a 10% tariff on $300 billion of Chinese goods. The tariffs will go into effect on September 1. Some tariffs on cell phones and laptops were postponed until December 15. After China's new round of tariffs, President Trump raised the tariffs from 10% to 15% on August 23.
Besides tariffs, Best Buy faces significant competitive headwinds in the domestic market. Walmart and Target have swiftly expanded their delivery capabilities. Amazon has also been a significant threat.