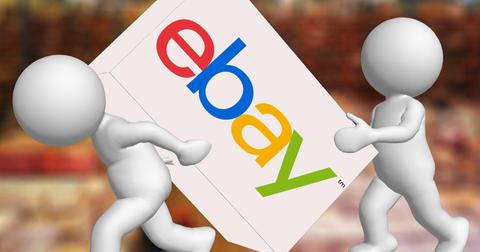 What to Expect from eBay's Q2 Earnings Results
By Adam Rogers

Updated
eBay (EBAY) is set to announce its second-quarter earnings results on Wednesday. Analysts expect it to post revenue of $2.67 billion in the quarter, a rise of 1.3% YoY (year-over-year) and up from $2.64 billion in the second quarter of 2018. They also expect its non-generally accepted accounting principles earnings to rise 17.0% YoY to $0.62.
eBay has managed to beat analysts' EPS estimates in each of the last four quarters:
Its EPS of $0.67 in the first quarter beat analysts' estimate of $0.63 by 6.3%.
Its EPS of $0.71 in the fourth quarter of 2018 beat analysts' estimate of $0.68 by 4.4%.
Its EPS of $0.56 in the third quarter of 2018 beat analysts' estimate of $0.54 by 3.7%.
Its EPS of $0.53 in the second quarter of 2018 beat analysts' estimate of $0.51 by 3.9%.
Despite these earnings beats, eBay stock has gained just over 8.0% in the last year, underperforming broader indexes. It fell from $38.0 in July 2018 to $26.0 in December 2018. It's made an impressive comeback in 2019, gaining 43.8% year-to-date. It's also been volatile, rising 42.7% in the last three years and 86.5% in the last five years. These returns are in line with the broader indexes.
In comparison, the S&P 500 ETF (SPY) has returned 9.7% in the last year, 49.3% in the last three years, and 68.9% in the last five years. The Invesco QQQ Trust, Series 1 ETF (QQQ) has returned 8.8% in the last year, 79.2% in the last three years, and 113.3% in the last five years.
What's driven eBay stock this year?
The tech sell-off in the fourth quarter of 2018 provided an interesting opportunity for investors. Shares were undervalued, and eBay's earnings were set to expand at a robust pace. Further, eBay reported better-than-expected first-quarter results and increased its full-year guidance, driving investor optimism.
eBay has also expanded its bottom line via share repurchases. In the first quarter, the company repurchased $1.5 billion worth of shares. Its remaining share repurchase authorization was $5.7 billion at the end of March 31, 2019. So what's next for this e-commerce giant?
Analysts expect eBay's sales to rise 1.7% to $10.93 billion in 2019, 5.4% to $11.5 billion in 2020, and 8.6% to $12.51 billion in 2021. eBay's revenue growth is accelerating. Its sales in the first quarter rose just 2.4%, less than peers Walmart (WMT) and Amazon. Walmart's online business grew 37.0% in the quarter, while Amazon's sales grew in the double digits YoY. However, eBay's operating model ensures a high profit margin, as it transfers costs to supply vendors.
Slowing volumes
eBay investors were concerned about the company's slowing GMV (gross merchandise volume) last year, as it affected revenue as well. eBay's GMV, which is the value of goods sold updated on the website at a specific time, fell 4.2% YoY to $22.6 billion and was down 1%, excluding currency. Its GMV will be under pressure in the short term, as eBay has also reduced its promotional and marketing spending.
The company's high-growth businesses somewhat offset the fall in its GMV. Its sales rose after its recent foray into the payment-processing space. In the first quarter, eBay's payments business rose 60.0% YoY to $200 million and accounted for less than 10.0% of its sales. This number could rise, as eBay is now eyeing international expansion. Its third-party advertising business is also likely to gain traction. This segment doubled its sales in the most recent quarter.
Is eBay stock undervalued?
eBay stock is trading at a forward PE multiple of 13.0x. Analysts expect its earnings to rise 16.4% in 2019, 13.7% in 2020, and 12.0% in the next five years. eBay has a dividend yield of 1.4%. These metrics suggest that eBay still has some upside potential.
eBay's 14-day RSI (relative strength index) score of 62 suggests that it's trading close to overbought territory. An RSI score of above 70 suggests that a stock is overbought, while an RSI score of below 30 suggests that it's oversold. Now that eBay stock has breached $40.0, it could see short-term resistance around $40.1 and support at $38.1.
The 38 analysts covering eBay have a 12-month average price target of $39.99 on the stock, indicating that it could trade flat in the coming year.