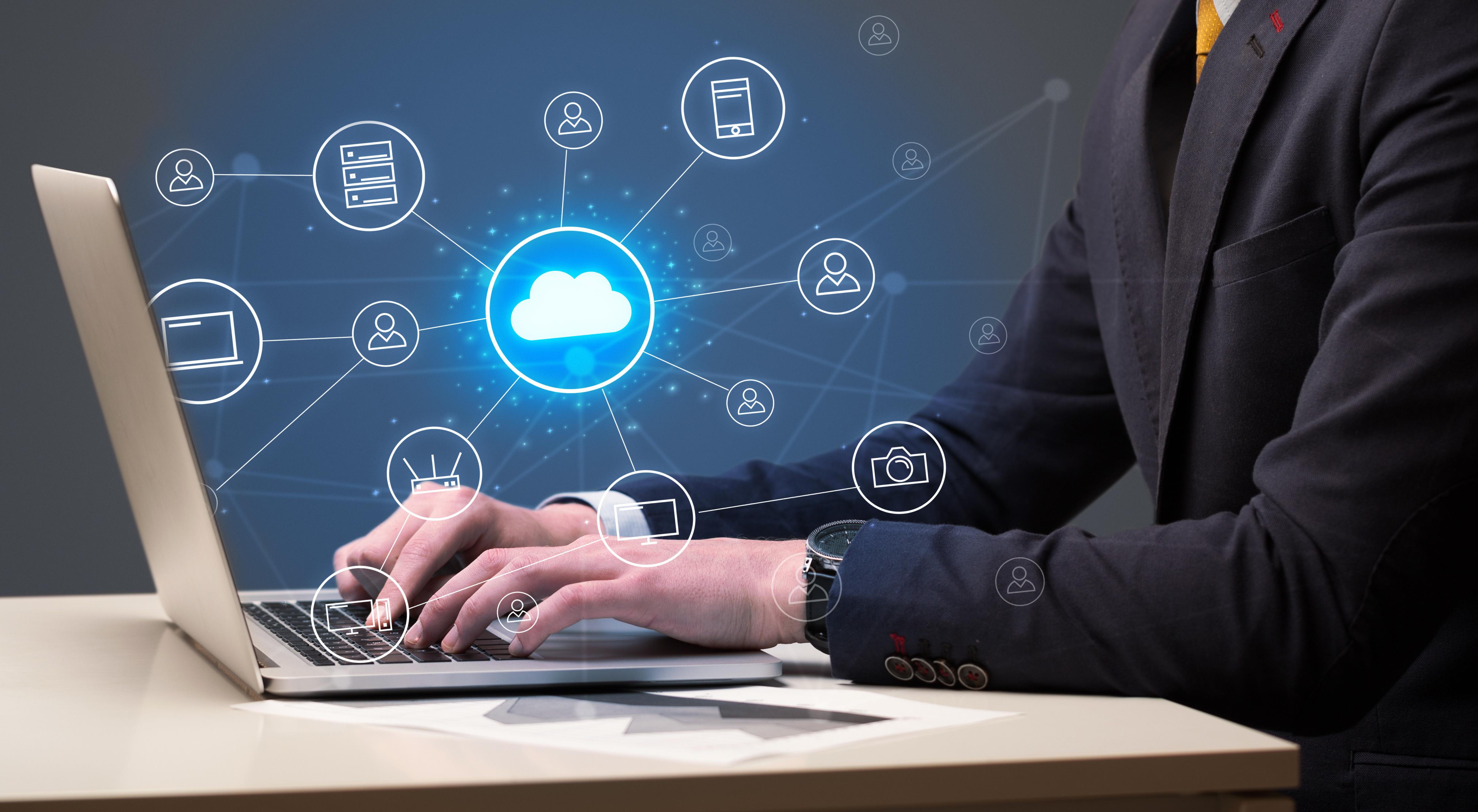 Oracle Taps Blockchain to Strengthen Cloud Computing Offerings
By Ruchi Gupta

Sep. 1 2020, Updated 11:34 a.m. ET
Oracle blockchain platform for startups
Blockchain will store as much as 10% or $8 trillion of the global GDP by 2027. Oracle started courting startups with blockchain solutions after Pepkor Europe selected its cloud computing platform to grow the customer base. Consequently, the software giant has announced plans to leverage digital ledger technology to create new revenue streams for startups.
Oracle will plug startups' data into a blockchain for secure storage and easy access. With the help of blockchain, startups stand to enjoy fast and cheaper payments. In return, Oracle should be able to draw in more companies looking to leverage blockchain solutions. The ultimate goal is to convert startups into paying customers for its other cloud software and applications. Therefore, Oracle should be able to strengthen its revenue base with a 1.1% sales increase in Q4 2019, according to Bloomberg.
Article continues below advertisement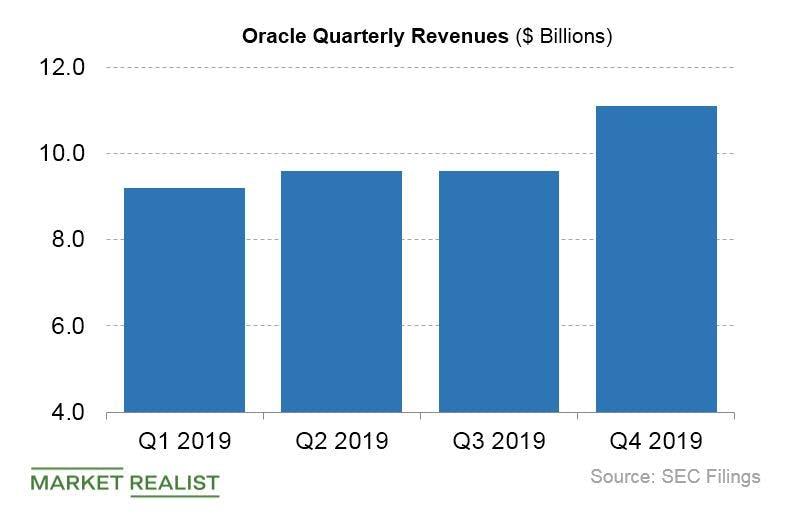 Tech giants in blockchain
Oracle joins many tech giants that are increasingly expanding their foot-print into the blockchain space. Amazon (AMZN) has unveiled AWS Blockchain Templates, which allows startups and enterprises to launch Ethereum networks much faster. Likewise, Microsoft (MSFT) has unveiled a set of tools designed to simplify the development of blockchain networks. It's also in the process of rolling out a royalty and content rights blockchain platform for Xbox games. IBM (IBM) has also contributed a great deal on the development of a permissioned blockchain infrastructure, Hyperledger Fabric. The platform enables secure sharing of information. IBM has also launched a blockchain platform aimed at financial services. The platform is finding great use in collateral management as well as derivatives post-trade processing, according to CNBC.
Article continues below advertisement
Pepkor Europe taps Oracle cloud services
Oracle's (ORCL) Q4 revenue increased by 1% YoY to $11.1 billion. The cloud division remained a key driver of the bottom line. The company's cloud applications led by enterprise management apps, HR app, and Fusion ERP continued to resonate well with customers.
Pepkor is an ideal cloud customer for Oracle as it runs a robust business. The company sells clothing and fast-moving consumer goods such as food, health products, and general merchandise. Certainly, Oracle remains well-positioned to bolster its revenue base as Pepkor Europe moves to leverage its Retail Merchandising Cloud Service for enhanced inventory management.
Pepkor Europe serves customers in 14 countries and operates over 2,000 stores. The company is in the process of automating and streamlining its end-to-end financial management process through Oracle Enterprise Resource Planning Cloud.
Oracle loses $10 billion cloud computing dispute
A deal with Pepkor Europe comes hot on the heels of a federal Judge ruling against Oracle in a cloud computing dispute, according to the Washington Post. The ruling paves the way for the Defense Department to award a multi-billion cloud contract to Amazon (AMZN) or Microsoft (MSFT).
The ruling is a major blow for Oracle as it faces the risk of losing a share of its business with the Defense Department, reports Bloomberg. The Defense Department opting to deal with one company on defense contracts could result in Oracle losing a fair share of its federal defense business. This is especially the case on the DOD awarding Amazon the $10 billion cloud contract.
"Oracle will likely be most threatened by this decision. They stand to lose the most ground in the Defense market if the DOD decides JEDI is the end-all be-a," said Bloomberg Intelligence analyst James Bach.
Article continues below advertisement
Amazon looks set to win the contract, given its years of experience in working with classified data under the department of defense. IBM just like Oracle also stands to lose big should the DOD award the cloud contract to one provider. If Oracle loses its government cloud contracts, then it can look at Pepkor Europe to offset part of the losses.
Oracle takes the fight to Amazon and Microsoft in cloud computing
Oracle is creating best-in-class systems, productivity systems, as well as scalable digital platforms. This is part of an effort to enhance artificial intelligence accessibility across companies. The company made the announcement at the Oracle's Analytics summit. The company has since unveiled new cloud solutions to compete with Amazon (AMZN) Web Services and Microsoft (MSFT) Azure.
Oracle Analytics Cloud, Oracle Analytics Server, and Oracle Analytics for Cloud Applications are the new solutions that the software maker intends to use to strengthen its cloud offerings. The newly launched solutions are for handling various business processes on the cloud. The solutions also offer augmented analytics as well as cloud computing and enterprise planning workflows. Furthermore, the new solutions should draw in new customers. This development should be good news for Oracle's revenue base, which appears to have stagnated in fiscal 2019.
Article continues below advertisement
Oracle has also strengthened its autonomous database capabilities. The upgrades, as a result, strengthen the company's ability to meet the needs of enterprise customers looking to move critical workloads to the cloud. Just like Google (GOOGL) and Microsoft cloud tools, the upgraded Autonomous Database will hasten the transition from manually managed databases to an autonomous and isolated private database. As it stands, Oracle is uniquely positioned to empower customers by offering AI-powered self-service analytic capabilities for data preparation and management.
Race for cloud revenues
Oracle's new solutions signal the company's growing focus on strengthening its cloud computing portfolio. The company is gearing up to take Amazon, which generated $7.7 billion in cloud revenues in the first quarter. Similarly, IBM reported a 12% increase in cloud revenue, for the full fiscal 2018, which climbed to $19.2 billion.
Microsoft is also a big player having delivered more than $23 billion in cloud revenue for fiscal 2018. The company exceeded an initial ambition of $20 billion. Oracle generated $32.6 billion in cloud revenue in fiscal 2019.
Cloud computing has emerged as a key battleground for growth opportunities. Gartner, in a research report, notes that the public cloud services market is set to grow by 17.3% in 2019 to $206.2 billion from $175.8 billion in 2018.