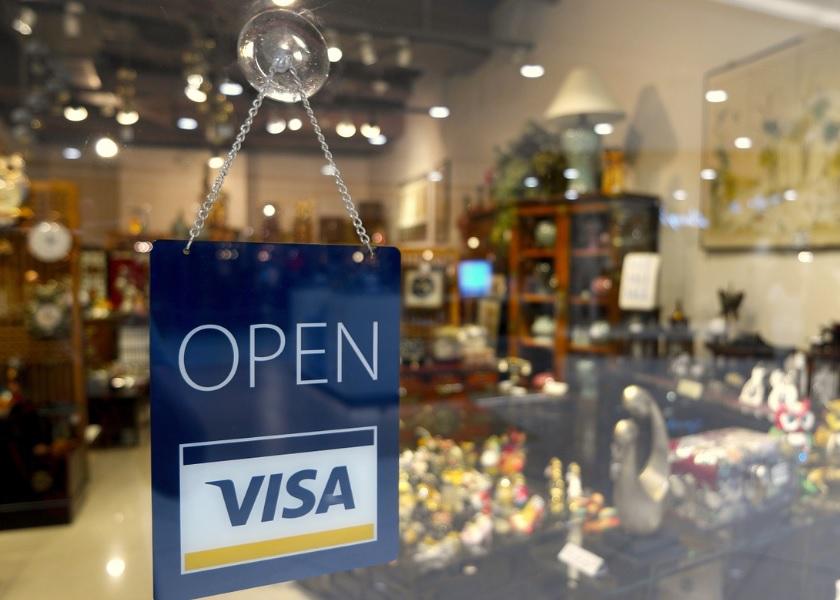 How Visa Stock Has Performed and What to Expect
By Rekha Khandelwal, CFA

Jul. 16 2019, Updated 2:37 p.m. ET
Visa (V) is a global payment technology company that operates in 200 countries. The company operates the world's largest payment processing network. Visa had a total transaction volume of $11.2 trillion for the 12 months ended June 30, 2018. Visa has a network of 3.3 billion cards, 53.9 million merchant locations, and 15,900 financial institutions. Visa's top competitors include MasterCard, American Express, and Discover Financial.
Article continues below advertisement
As the above table shows, Visa is one of the largest payment processors. Visa is followed by MasterCard and American Express. Notably, the Chinese operator UnionPay is not included. However, many consider it the largest in terms of transactions and volumes. Its reporting methodology may vary from the above-listed companies.
Background
In 1958, Bank of America launched BankAmericard, the first consumer credit cards for middle-class consumers and small merchants. In the 1970s, BankAmericard became an independent entity that later came to be known as Visa. Visa continued to operate as a series of entities owned regionally by banks across the world until 2007. The regional entities then merged to form Visa. Visa then went public in 2008.
Article continues below advertisement
Visa's payments system overview
In a typical transaction, the account holder presents a Visa-branded card to a merchant as payment for goods or services. The transaction information is then transmitted electronically to the acquirer financial institution. The acquirer is a financial institution that enlists merchants to accept Visa payments. The acquirer ensures that the merchants get paid for each transaction.
The transaction information is routed through Visa's network to the card issuer for authorization. Following authorization, a file containing the final transaction data is submitted from the acquirer and processed for a final settlement.
Visa does not earn revenues from or bear credit risk with respect to interest or fees paid by account holders on Visa-branded cards. Banks such as J.P. Morgan, Bank of America, and Citigroup issue their cards. The credit for purchases on these cards is provided by the issuing banks. Visa settles the transactions.
Article continues below advertisement
How Visa makes money
Visa earns roughly a third of its revenues from services to support client usage of its products. Payments volumes on the company's network drive this service revenue. Authorization, clearing, settlement, network access, and other services generate slightly more than a third of Visa's revenues. The number of transactions processed drives this processing revenue. Cross-border transaction processing drove around 28% of Visa's 2018 revenues.
Visa pays incentives to financial institutions and merchants to increase acceptance of Visa products and generate higher payments volumes on its network. Visa's net operating revenues grew 12% in 2018 and 22% in 2017. For the quarter ended March 31, Visa's net revenues grew 8% YoY.
Visa stock: Operational performance overview
For the quarter ended March 31, Visa's payments volumes grew 4% YoY. The growth was 8% on a constant-dollar basis. At the same time, the total transactions on Visa's network grew 9% YoY.
As the above graph shows, Visa's total transactions and payments volumes are on an upward trend over the latest ten quarters. The total transactions and payments volumes directly drive the company's data processing and service revenues, respectively.
Article continues below advertisement
Visa stock performance
So far in 2019, Visa stock has risen about 37% and has outperformed the S&P 500 Index. In contrast, MasterCard stock rose around 48% over the same timeframe. Over a five-year period, Visa (V) stock rose roughly 236%. It massively outperformed the S&P 500 Index's 52% rise. MasterCard rose around 269% in five years.
Visa stock is trading above its 50-day and 200-day moving averages. In the near term, Visa's 50-day average of around $168.2 may act as a support level for the stock.
An overview of Visa stock's valuation
Visa stock is trading at a PE ratio of about 39x. Its forward PE based on estimated earnings for the next 12 months is 30x. While Visa's valuation looks rich, peer MasterCard is trading at an even higher forward ratio of 33x. Notably, MasterCard's average PE ratio over the last ten years was lower than Visa's. MasterCard's outperformance in recent years has likely contributed to its premium valuation.
Visa looks better based on its PEG (PE-to-growth) ratio as well. Its PEG ratio of approximately 2x is better than MasterCard's 2.2x.
An overview of Visa's growth prospects
Visa competes with all kinds of payments including cash and check. In addition to global payments providers such as MasterCard, Visa faces competition from the alternative payment providers such as Alipay, WeChat, and PayPal. Additionally, developments in blockchain technology and digital currencies are creating new opportunities and challenges for payments processors.
However, Visa's position in the ever-evolving global payments industry remains well-established due to several factors. Firstly, it has established its brand as a secure, convenient, fast, and reliable payments processor. Secondly, it has a global reach through its vast network and client base. Over the years, Visa has developed ties with local financial institutions, merchants, governments, and businesses. Therefore, the company has immense opportunities to expand.