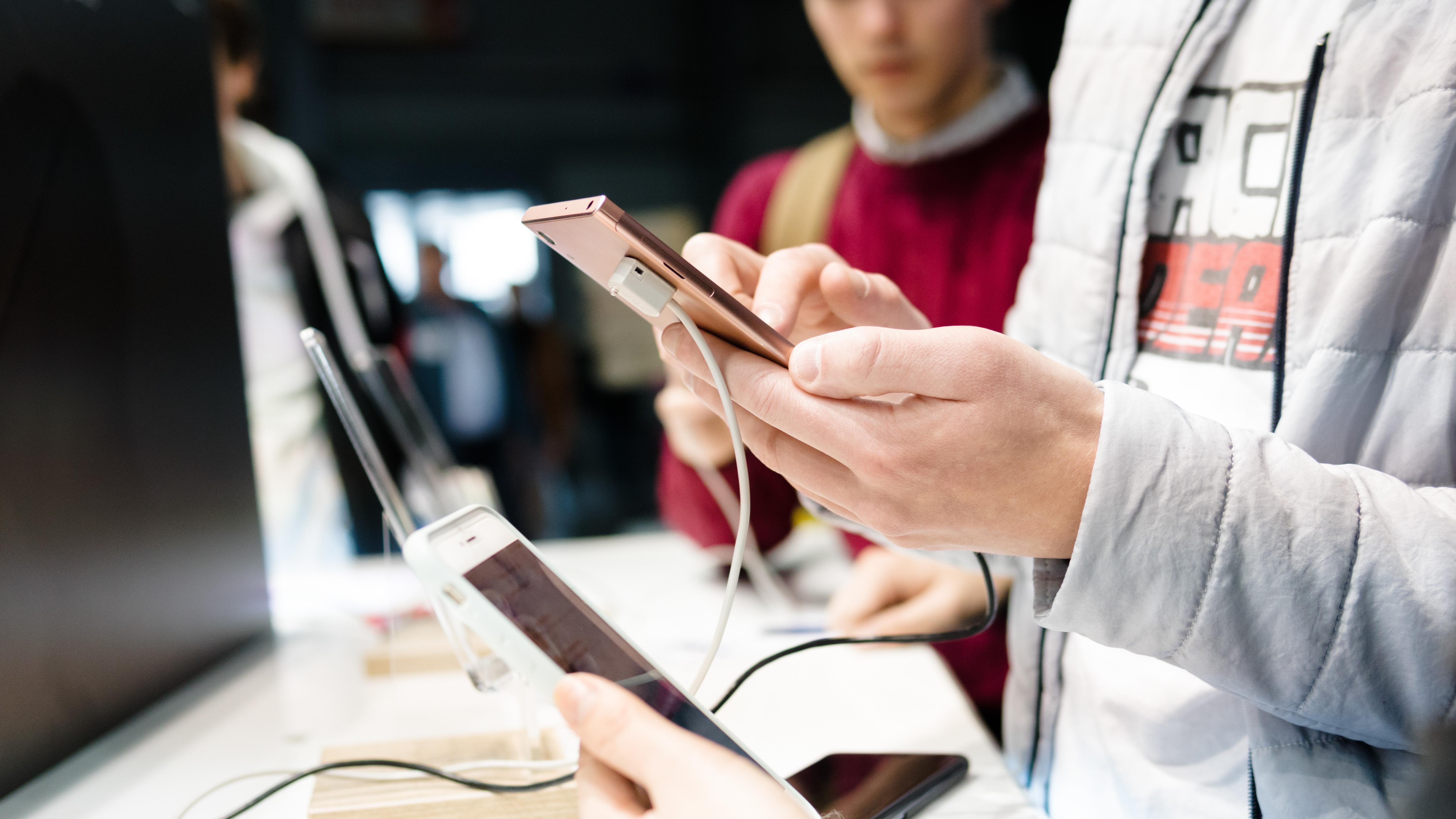 What Brought Apple's Revenue Back on Growth Track in Q3?
By Sirisha Bhogaraju

Jul. 31 2019, Published 10:54 a.m. ET
Apple (AAPL) stock rose 4.5% in after-market hours trading on July 30 in reaction to the company's better-than-expected earnings for the third quarter of fiscal 2019. The third quarter ended on June 29. Apple's revenue grew 1.0% to $53.8 billion in the third quarter after declining 4.5% and 5.1% in the first and second quarters, respectively. The double-digit growth in Apple's services business and phenomenal growth in wearables drove the third-quarter revenue growth despite the continued decline in iPhone sales.
Apple's third-quarter revenue exceeded analysts' estimate of $53.4 billion. Also, Apple's EPS of $2.18 beat analysts' forecast of $2.10. However, third-quarter EPS declined 6.8% on a YoY basis.
Apple stock was up 4.2% as of 8:06 AM in the pre-market hours today. The stock had risen 32.4% on a year-to-date basis as of July 30. Comparatively, the S&P 500 and Dow Jones have risen 20.2% and 16.6%, respectively, so far in 2019.
Article continues below advertisement
Improving trend in iPhone
iPhone revenue fell 11.8% to about $26 billion in the third quarter. Sluggish demand for smartphones and intense competition from brands, like Huawei and Xiaomi, in key markets like China have been a drag on iPhone sales.
However, investors were relieved to some extent as there was an improvement in the third quarter compared to the 15% and 17% revenue decline in the first two quarters of fiscal 2019. In its third-quarter conference call, the company mentioned that the iPhone returned to growth in company-owned retail and online stores on a YoY basis in June.
The company disclosed that the segment is benefitting from a favorable customer response to its in-store, trade-in, and financing offers.
Apple's services revenue
Apple's services business has emerged as a key growth driver in recent times. This profitable business accounted for 21.3% of the overall revenue and 36% of gross profit in the third quarter. Overall, services revenue grew 12.6% to $11.5 billion.
Revenue from Apple Pay and App Store search ad business grew by triple digits in the third quarter.  The business experienced double-digit growth in its App Store, Apple Music, cloud services and AppleCare revenue. Apple ended the third quarter with 420 million paid subscriptions across all its services. It is on track to cross the 500 million subscriptions mark in 2020.
Apple sees continued momentum in this business as it is adding more services. The company is launching Apple Card in August. In the fall this year, the company will roll out Apple Arcade (gaming subscription service) and Apple TV+ (video streaming service).
Article continues below advertisement
Robust growth in wearables
It was a stellar quarter for the wearables, home, and accessories category. This category includes products like AirPods, Apple TV, and Apple Watch. Revenue from this business surged 48% to $5.53 billion with growth across all geographies. The growth in the overall category was quite an improvement compared to 30% in the second quarter.
Particularly, the wearables business grew over 50% in the third quarter. Revenue from AppleTV and accessories grew in the double digits.
Mac back to growth in Q3
After declining 4.6% in the second quarter, revenue from Mac grew 10.7% to $5.82 billion in the third quarter. Higher sales of Macbook Air and MacBook Pro drove the revenue growth. Geographically, the product experienced strong sales in the US, Europe, and Japan.
The company is optimistic about its growth prospects in this category with innovative products like MacBook Air, the new Mac Pro and Pro Display XDR (slated to release in fall this year).
Article continues below advertisement
Strength in iPad sales  
Revenue from Apple's iPad grew 8.4% to $5.02 billion driven by growth across all geographic segments. The product generated record revenue in Mainland China and a double-digit increase in emerging markets.
In its third-quarter conference call, Apple expressed optimism about the category based on the results from recent surveys by 451 Research. The results indicated that 75% of the business customers who intend to purchase tablets in the September quarter plan to buy an iPad.
Apple's performance in China
China is a key market for Apple. The US-China trade war and competition from local players have disrupted Apple's performance in the region. Revenue from Greater China declined 4.1% to $9.2 billion in the third quarter. However, the trend improved compared to the first half of fiscal 2019.
Apple experienced better YoY sales in the iPhone business compared to the first two quarters. The region also saw sequential improvement in the performance of all its categories driven by government stimulus, positive response to trade-in programs, and other sales initiatives like financing offers. Strength in App Store revenue led to double-digit growth in the services business from Greater China.
What does Q4 outlook indicate
Apple anticipates its fourth-quarter revenue in the range of $61 billion and $64 billion. The company generated revenue of $62.9 billion in the fourth quarter of fiscal 2018. Continued strength in non-iPhone categories might drive growth in the fourth quarter. Currently, analysts expect Apple's fourth-quarter revenue to decline 2.2% to $61.5 billion. However, an improvement in the iPhone sales trend might raise expectations for the fourth quarter.
Apple recently announced an agreement to acquire the majority of Intel's (INTC) smartphone modem business. The acquisition is priced at $1 billion. The acquisition will help Apple in developing in-house 5G modems for its future products.
Intel announced its second-quarter results on July 25. Intel's second-quarter revenue declined about 3% to $16.5 billion. To know more, read Intel Jumps 7% on Earnings Beat, Sale of 5G Modem Business.