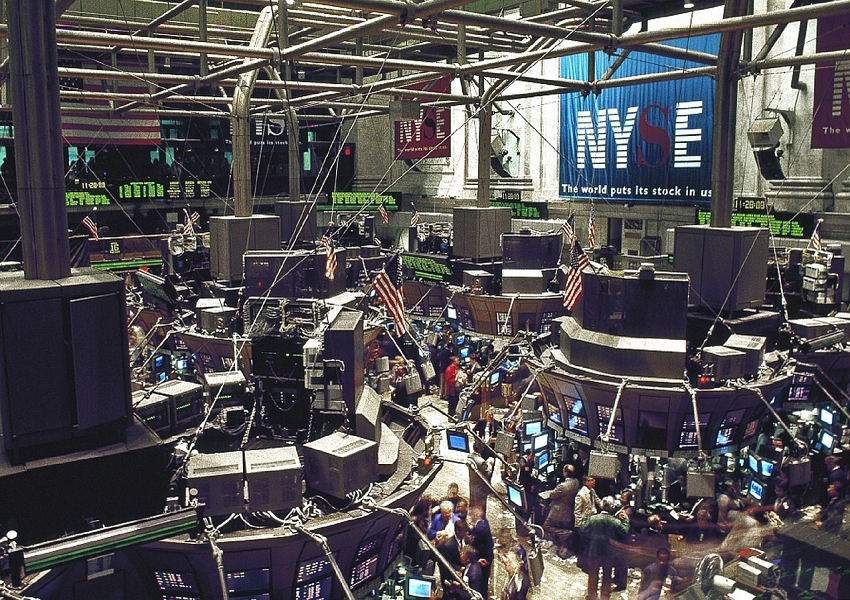 Apple and Boeing Stocks Dragged Down Broader US Market
By Anirudha Bhagat

Jul. 9 2019, Updated 1:31 p.m. ET
Broader market 
The US stock market started the week on a lower note. On Monday, all three major indexes closed in the red. The Dow Jones Index fell 0.4% or by 116 points to 26,806.14. The NASDAQ Composite fell 0.8% or by 63.4 points to 8,098.38, while the S&P 500 fell 0.5% or by 14.5 points to 2,975.95. The indexes' underperformance was mainly due to a massive fall in two high-weighted stocks—Boeing (BA) and Apple (AAPL).
Boeing shares fell by $4.74 or 1.3%. Apple stock fell by $4.21 or 2.1% during trade on Monday. At 8.9%, Boeing has the highest weight in the Dow Jones 30 stock index. Apple is sixth with a weight of 5.1%. The stocks have a cumulative weight of 13%.
The iShares U.S. Aerospace & Defense ETF (ITA), which invests in manufacturer, assemblers, and distributors of aerospace and defense equipment stocks, fell ~1% on Monday. Apple stock dragged the Technology Select Sector SPDR Fund (XLK) down 0.8%. XLK tracks technology stocks listed on the S&P 500.
However, slight gains in the three high-weighted stocks partially offset the overall drag on the broader market. UnitedHealth Group (UNH), Home Depot (HD), and McDonald's (MCD), which account for 17% of the Dow 30 component, gained 0.3%, 0.7%, and 0.4%, respectively.
Article continues below advertisement
Why did Apple stock fall?
On Monday, Apple fell after Rosenblatt Securities downgraded the stock to "sell" from "neutral" due to "fundamental deterioration." In a client note, Rosenblatt Securities analyst Jun Zhang said that the company's new iPhone sales would be disappointing. Zhang said that iPad sales could slow down in the second half of this year, according to CNBC. He said that other products' sales growth including the iWatch, AirPod, and HomePod won't be good enough to support Apple's overall revenue growth.
In the client note, Zhang wrote that "we believe Apple will face fundamental deterioration over the next 6 to 12 months." In his opinion, investors would be rewarded less by owning the stock due to the associated risk. Zhang maintained the $150 target price on the stock.
Why did Boeing stock fall?
On Monday, Boeing stock fell after the company lost a mega multi-billion dollar deal to Airbus. On Sunday, Boeing announced that the wholly-owned subsidiary of Saudi Arabian Airlines, Flyadeal, canceled the provisional order for 30 of its 737 MAX jets and an additional purchasing option for another 20 planes. The deal was valued at ~$5.9 billion.
Boeing's statement came after Saudi Arabian Airlines announced that it entered a deal with Airbus to purchase 30 A320neo series planes with the option of buying 20 similar aircraft. The airline revealed that it signed the agreement with Airbus at the Paris Air Show in June.
Article continues below advertisement
The latest development raised concerns about Boeing's troubled 737 MAX jets. The jets have been facing worldwide grounding since mid-March following the Ethiopian Airlines crash on March 10. Regulators around the world have banned the planes from flying. Boeing has to address the safety concerns in order for air carriers to start taking deliveries.
The shipments for Boeing's 737 MAX planes have been frozen since mid-March, which is hurting its overall commercial aircraft deliveries. In May, Boeing reported a 56% YoY (year-over-year) fall in total shipments to 30 units from 68 units in May the previous year.
Delivery cancellations are already hurting Boeing's financials. In the first quarter, the company reported a YoY decline in its revenues, EPS, and operating profit of 2%, 13%, and 21%, respectively. Last month, Bloomberg Intelligence analyst George Ferguson said that the airlines could charge Boeing with $1.4 billion in bills for canceled flights and a loss of operating profit if the MAX jets remain grounded until September.