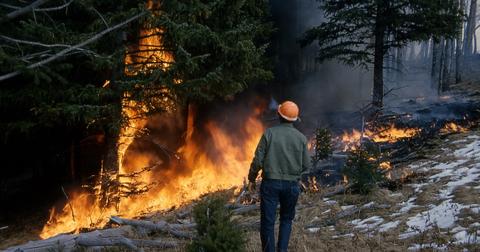 PG&E Stock Rose 15%, Governor Pushed for Wildfire Fund
By Vineet Kulkarni

Jun. 21 2019, Published 6:35 a.m. ET
PG&E
PG&E (PCG) is seeking bankruptcy protection under Chapter 11. The company's shares kept climbing for the sixth consecutive day. The stock rose almost 15% on June 20. Gavin Newson, the governor of California, proposed having a liquidity fund for state utilities to help pay for wildfire-related damages.
According to Bloomberg, Newson is pushing lawmakers for a wildfire fund that would be financed through bonds seeded by at least $10 billion in Department of Water Resources bonds. Utilities might be asked to bring in $7.5 billion in equities.
PG&E stock has been rallying for the past several days. The stock has gained ~27% in the last six trading sessions. Edison International (EIX) and Sempra Energy (SRE), peer utility stocks in California, rose 2.4% and 1%, respectively, on June 20.
Article continues below advertisement
PG&E filed for Chapter 11 bankruptcy protection on January 29. The company faces ~$30 billion in potential liabilities associated with wildfires in 2017 and 2018. PG&E stock fell close to $5.0 in January before it filed for bankruptcy. Traders who entered at these levels could be sitting at a mammoth gain of more than 350% in five months.
PG&E's first settlement
According to the Wall Street Journal, PG&E agreed to pay $1 billion to various California cities, counties, and agencies in order to settle claims for losses from the Camp Fire.
Camp Fire, the deadliest wildfire in California's history, killed 85 people and burned more than 18,800 structures last November. PG&E's settlement is subject to bankruptcy court approval. The settlement doesn't impact individual or business claims.