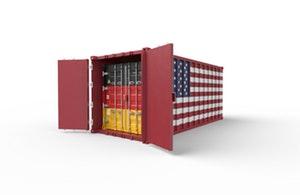 Falling US Exports and Imports Reflect Weak Demand Environment
By Puja Tayal

Jul. 31 2019, Updated 12:10 p.m. ET
The United States trade deficit shrinks in April
The US Bureau of Economic Analysis and the US Census Bureau report showed that the overall United States trade deficit for April fell 2.1% to $50.8 billion, which is supposed to be a good sign for the economy, but it is not. The trade deficit fell as both exports and imports fell 2.2% to $206.8 billion and $257.6 billion, respectively.
Between January and April 2019, US imports fell 2.5% YoY to $208.7 billion, the lowest level since January 2018. The US imported fewer semiconductors, mobile phones, autos and parts, and chemicals as demand struggled to grow amid the trade war with China. The import decline reflects a slowdown in manufacturing. Many semiconductor firms, especially memory chip makers, slowed production due to weak demand and increasing inventory.
Article continues below advertisement
United States trade deficit with China grows
Despite the trade war, the deficit with China increased by $2.1 billion to $29.4 billion in April as exports decreased by $1.8 billion to $8.5 billion and imports increased by $0.3 billion to $37.9 billion. These figures are before the United States increased the 10% tariff to 25% on $200 billion worth of Chinese imports on May 10 and banned exports to Huawei and its 70 affiliates. These developments will reduce exports to and imports from China.
Economists warned that the Trump administration's "America First" agenda is impacting US trade with the rest of the world. Almost all US semiconductor and smartphone companies reported significant revenue declines in the first quarter. Given the direction in which the trade war is heading, it seems like their revenues will only worsen.
Impact on the semiconductor industry 
The reduction in trade deficit cost many American companies their export business and cheaper suppliers. The changing policies amid the trade war are creating an uncertain demand environment, making it difficult for businesses to plan ahead. NVIDIA is not giving full-year guidance amid uncertainty.
The S&P 500 Index (SPY) rose 17.5% between January and April due to the anticipation of strong growth in the second half, but it fell 6.4% in May when the United States and China imposed higher tariffs and the former imposed a trade ban on Huawei.
According to FactSet data, of all the sectors in the S&P 500 Index, the information technology sector reported the biggest decline in its EPS estimate for the second quarter. The decline would largely be driven by double-digit declines in semiconductor and hardware earnings.