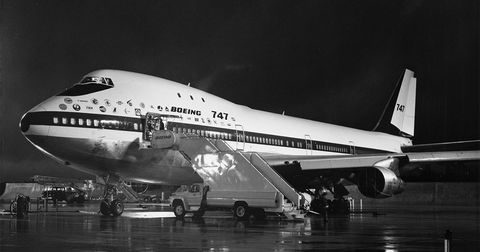 Boeing Rises on Improved Outlook for Commercial Plane Demand
By Anirudha Bhagat

Jun. 18 2019, Published 7:36 a.m. ET
Commercial aircraft demand
Boeing (BA) rose 2.2% on June 17 after the company raised its 20-year outlook for commercial airplane demand. The company now forecasts that there will be a need for 44,040 new jets over the next two decades compared to the ~43,000 it had projected earlier.
In dollar terms, the new forecasts signify order value worth $6.8 trillion at list prices, ~3% higher than Boeing's previous projection of $6.3 trillion. The aircraft manufacturer cited growing passenger volumes and rising plane requirements as the main reason behind its upbeat outlook. However, it warned that global economic and geopolitical risks could undermine demand forecasts.
Article continues below advertisement
According to Boeing's report, about 44% of the total projected orders will go toward replacing the older aircraft while the remaining will accommodate traffic growth. The company anticipates that between 2019 and 2038, passenger and cargo traffic will grow at an annual average rate of 4.6% and 4.2%, respectively.
The single-aisle jets such as Boeing's 737 MAX and Airbus's A320 family are expected to dominate aircraft demand. Boeing projects that demand for single-aisle planes will be around 32,420 units through 2019–2038 mainly driven by robust replacement demand, rising demand for low-cost carriers, and growth in the Asia-Pacific region.
The new projection is about 3% higher than the 31,476 jets the company had forecasted a year earlier and accounts for ~74% of total orders. In dollar terms, this translates to $3.8 trillion at list price.
Boeing also raised its demand projection for wide-body aircraft by 3.3% to 8,340 units from 8,070 units mainly driven by strong replacement demand. Additionally, the company noted freighters would need 1,040 new large planes in the next 20 years, which would also support demand for wide-body planes.
Stock performance
Boeing stock has gained 10% YTD. The stock has underperformed the major US indexes including the Dow Jones, the NASDAQ, and the S&P 500, which are up 11.9%, 18.2%, and 15.3%, respectively, during the same timeframe.
Boeing's YTD returns are much lower than the gains of the iShares U.S. Aerospace & Defense ETF (ITA). The ETF, which invests in companies that manufacture, assemble, and distributes aircraft and defense equipment, has returned 19.7% YTD. Boeing's major peers including United Technologies (UTX), Lockheed Martin (LMT), and L3 Technologies (LLL) have gained 16.7%, 33.2%, and 43.1%, respectively.