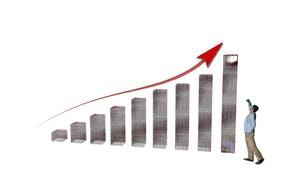 A Look at JD.com's Revenue and Earnings Growth
By Adam Rogers

Jun. 21 2019, Updated 9:56 a.m. ET
Sales expected to rise by 17.5% in 2019
China's (FXI) Internet giant JD.com has risen just over 3.0% in the last five years. The primary driver of a company's stock price is its revenue and earnings growth. JD.com has managed to grow sales at a robust pace over the years. On a constant currency basis, JD.com's sales have risen 55.9% in 2015, 43.5% in 2016, 39.2% in 2017, and 27.5% in 2018.
Analysts expect JD.com's sales to rise by 17.5% to $80.55 billion in 2019 and 16.7% to $93.98 billion in 2020. Though decelerating, revenue growth remains impressive for JD.com.
Article continues below advertisement
Earnings growth
JD.com's adjusted earnings are estimated to expand by an impressive 94.3% to $0.68 per share in fiscal 2019, up from $0.35 in 2018. Analysts also estimate the company's EPS to rise to $1.02 in 2020, a rise of 50.0% YoY.
On a GAAP (generally accepted accounting principles) basis, analysts expect JD.com's operating margin to rise from 0.4% in 2018 to 2.2% in 2021, which is a rise of almost 6x. Similarly, JD.com's net margin is expected to rise from -0.5% in 2018 to 1.3% in 2021.
JD.com's earnings per share have grown at a compound annual growth rate of 81.8% in the last five years. This robust growth in earnings and revenue were unable to drive JD's stock price higher.
The company has been impacted by management issues, a slowing Chinese economy as well as the ongoing trade war between China and the United States over the last 18 months.