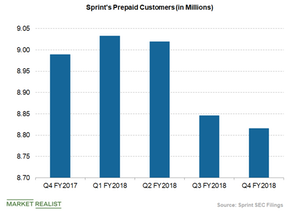 Will Sale of Boost Mobile for T-Mobile Merger Hurt Sprint?
By Sophia Nicholson

May. 24 2019, Published 1:29 p.m. ET
FCC's condition to approve the merger
On May 20, the fourth-largest US wireless carrier, Sprint (S), committed to divesting one of the largest US prepaid wireless brands, Boost Mobile, to get approval from the Federal Communications Commission (or FCC) for its merger with T-Mobile (TMUS). Notably, both Sprint and T-Mobile have many prepaid subsidiaries, and therefore, the FCC was concerned that keeping all the prepaid brands would create a monopoly and hurt competition. As a result, the FCC wanted Sprint to sell one of its prepaid brands.
Along with that, the FCC has also asked the companies for maximum 5G deployment and to keep the prices low for three years after the merger deal is closed.
Article continues below advertisement
Prepaid customers
Notably, Sprint had around 8.8 million prepaid customers in the fourth quarter of fiscal 2018, which ended on March 31, 2019, wherein most of the customers are on Boost Mobile prepaid brand, which offers four lines with unlimited data, talk, and text for $100 per month. Some customers are on prepaid brands like Virgin Mobile, Assurance Wireless, and other prepaid plans.
However, Sprint likely won't be very affected by the loss of Boost Mobile, even though it is one of the leading prepaid carriers in the US, given that T-Mobile already has a more successful prepaid brand and has a higher prepaid customer base of around 21.1 million customers in comparison to Sprint. T-Mobile's prepaid customers, which are mostly on the Metro brand, compete with AT&T's 17.2 million prepaid customers.
Though the brand would be sold, Boost would continue to rely on the combined company after the merger to provide spectrum and network access for at least six years.