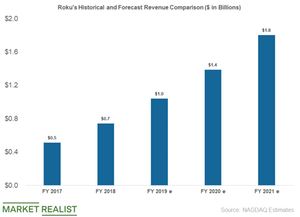 Why Roku's Robust Sales Growth Could Continue in the Long Run
By Adam Rogers

May. 10 2019, Published 8:08 a.m. ET
Shift to streaming will drive Roku's revenue growth
The cord-cutting trend has negatively impacted the sales of traditional pay-TV providers for a while now. According to Roku's (ROKU) letter to shareholders, the domestic cable and satellite TV companies in the United States lost 3 million subscribers in 2018 and lost another one million in the first quarter of 2019.
Further, linear TV viewing hours among 18 to 34 year-olds in the US have fallen 50% since the start of this decade. Heavyweights such as Disney (DIS), Amazon (AMZN), Apple, and Comcast (CMCSA) are all targeting the online streaming space now.
Article continues below advertisement
Amazon, Disney, and Netflix (NFLX) are expected to spend billions of dollars going forward to create original content for their streaming platforms. Last year, Netflix received more Emmy nominations than any other content producer and was tied with HBO at 23 Emmys. According to Pivotal Research Group, streaming accounts for one-sixth of TV hours among 18 to 49 year-olds.
Evolution of the streaming market
Roku is all set to benefit from the exponential growth in the streaming segment. However, as this segment evolves, Roku expects subscription-based and ad-supported business models to co-exist and drive sales growth in the coming years.
Roku generates revenue whenever a user subscribes to a streaming service via its platform. Roku has a strong and engaged audience base, which attracts content creators and streaming services. Roku provides value to streaming services by leveraging machine learning to help the latter target new audiences for subscriptions.
Roku Channel
The Roku channel offers a portfolio of 10,000 free ad-supported movies and TV episodes. It also has around 25 live streaming channels. In the first quarter, the Roku Channel added premium subscriptions and now offers around 30 premium content services such as HBO, SHOWTIME, and STARZ.
Roku is optimistic about growth and demand for the Roku Channel, which offers ad-supported content as well as live programming and premium subscriptions.
In the above chart, we can see that Roku's sales are expected to rise from $513 million in 2017 to $1.8 billion in 2021, which indicates a compound annual growth rate of 37% between 2017 and 2021.