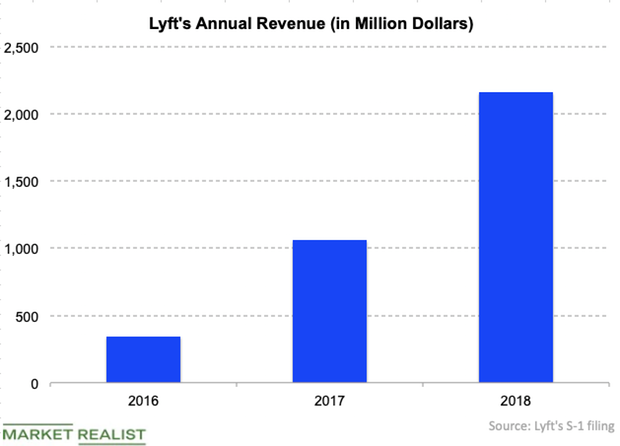 Why Lyft Stock Has Declined 21% since Its IPO
By Sanmit Amin

May. 30 2019, Updated 7:49 a.m. ET
Lyft has a market cap of over $16 billion, but still isn't profitable
Lyft (LYFT) has had a difficult time since going public on April 1. Within two months, the stock is down 21% from its IPO price of $71. After declining in the first few sessions after the IPO, the stock fell further after the company announced its first-ever earnings as a public company.
Investors were disappointed as the ride-hailing company was not able to rein in its costs. The company registered a net loss of $1.14 billion during the first quarter of 2019. This is much higher than the net loss of $234 million it saw in the same quarter last year. However, the company expects its losses will peak this year.
Article continues below advertisement
Lyft's revenue and user base growth in Q1 was stellar
On the bright side, the company's revenue is surging. Lyft's revenue jumped 95.4% year-over-year during the first quarter to $776.0 million. The company registered 20.5 million active riders during the quarter. This is a 46.4% increase from 14 million in the first quarter of 2018.
But the main problem remains that the company is still far away from profitability and it could take years before the company could even break even, because, like Uber, it gives a significant portion of revenue to its drivers. This scenario partly explains why the ride-hailing company has had such a poor start as a public company. Automation, which Lyft is also working on, could help the company eventually reach profitability.