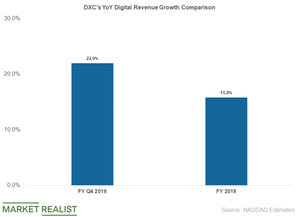 Why Is DXC Banking on Digital Revenue to Drive Sales in 2020?
By Adam Rogers

May. 24 2019, Published 12:50 p.m. ET
Digital revenue was up 22% in fiscal 2019
On a constant-currency basis, DXC's (DXC) digital revenue rose 22% year-over-year in the fourth quarter of 2019. In fiscal 2019, its digital revenue rose 15.8%. Its sales were driven by strength in its enterprise, cloud infrastructure, and cloud applications and its digital workplace verticals.
DXC has partnered with several clients to lead the digital transformation of enterprises that help it achieve cost savings. According to the company, "In many cases, we provided these savings through lower operating costs on traditional service which initially reduces revenue and profit on the account. In return, we secure commitments on the client to expand DXC's wallet share and future digital spend, which allows us to grow revenue and profit over time."
DXC intends to leverage its installed base to accelerate digital transformation processes and contracts. In the last quarter, DXC signed a seven-year transformation deal with a major global airline.
Article continues below advertisement
A deal with DXC provides up-front savings for the client and reduces operating costs. The client then commits to leveraging these savings and funding other transformation projects with DXC. While this leads to an initial fall in revenue and profit in that particular account, it drives top line growth over the complete life cycle of the contract.
Partnerships with BMW Group
DXC recently signed a deal with BMW group to leverage the latter's robotic drive solutions. DXC aims to support BMW's autonomous vehicle deployment program and is gathering huge amounts of road travel data from BMW's global test fleet. BMW's research team will be able to achieve faster autonomous driving development cycles using DXC's digital solutions.
DXC continues to invest in acquiring the top talent for its digital business. In the fourth quarter, it added 2,000 people in the digital vertical.