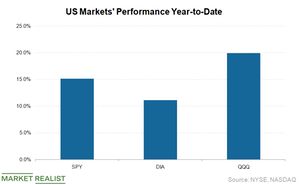 Why Gundlach Thinks US Lacks Tools to Handle Next Recession
By Anuradha Garg

May. 17 2019, Published 3:16 p.m. ET
Odds of recession
Jeffrey Gundlach believes that the likelihood of a recession in the next two years is extremely high. He believes while there is a 50% chance of a recession in the next year, during the next six months, the likelihood is 30%. Gundlach has also been warning that the next recession will be worse, as the US (SPY) doesn't have the tools to prop up the economy during the next recession.
Article continues below advertisement
US unprepared to handle the next recession
One of the tools is the interest rates, which the Fed usually reduces significantly to increase demand in the system. This time around, however, Gundlach feels that the rates are already very low. The Fed suddenly changed its stance from hawkish to dovish at the beginning of 2019. In the March policy meeting, it signaled no rate hikes in 2019, which surprised Gundlach. He is also worried that the economy, which is touted as being very strong and has record low unemployment, can't even handle a 2.5% federal funds rate (TLT).
One of the major contributors to the stock market rally this year has been the sudden change in the narrative from the Fed. Even after the recent weakness due to trade war concerns, the S&P 500 (SPY) and the Dow Jones Industrial Average Index (DIA) have advanced by 15.1% and 11.1%, respectively, as of May 16.
Debt surge and ability to reign in recession
In addition to lower flexibility on interest rates, he thinks that the rising debt problem will limit the US's ability to handle the next recession. Moreover, in the next recession, the magnitude of downgrades would be massive, further worsening the slowdown situation. As reported by CNBC, he said, "Any thoughtful person would be concerned." He added, "It's sounding like a pretty bad cocktail of economic risk, and risk to the long end of the bond market."
US companies (QQQ) such as Microsoft (MSFT), Amazon (AMZN), Netflix (NFLX), Alphabet (GOOG), and Facebook (FB) have been affected by the trade issues between the world's two largest economies. The further escalation of the trade war could also add to the slowdown concerns.