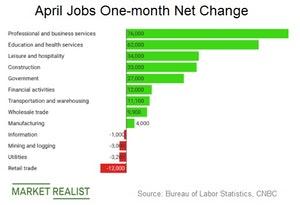 What Was the US Market's Reaction to April's Job Numbers?
By Sushree Mohanty

May. 6 2019, Published 10:32 a.m. ET
Which sectors added jobs?
Hiring across most US sectors looked positive in April. At 76,000, the most jobs were added in the professional and business services sector. The education and healthcare sector added 62,000 jobs, of which the healthcare sector alone added 50,000.
Other industries that saw improved job numbers were the leisure, construction, government, and financial activities sectors. The manufacturing sector added the fewest jobs.
Article continues below advertisement
How did the market react?
The impressive jobs report in April managed to further boost the equity market, which has been soaring YTD (year-to-date) in 2019. The S&P 500 Index (SPY) rose 0.96%, while the tech-heavy NASDAQ Composite Index (QQQ) rose 1.5% on May 3. The Dow Jones Industrial Average also closed with a gain of 0.75% on May 3. Looking at the YTD numbers, the S&P 500 Index has risen 18.0%, while the NASDAQ has risen 23.0%, and the Dow Jones has risen 14% as of May 3.
The consumer sector (XLY) usually benefits when job numbers look good. The more jobs there are, the higher the income. The higher the income, the higher consumer spending. Many sectors have done well in 2019 owing to better job numbers. The consumer discretionary sector has gained 22.1% YTD, while the consumer staples sector has gained 13.0% YTD. After the April jobs report, the consumer discretionary sector grew 1.4%, while the consumer staples sector (XLP) grew 0.74% on May 3. With the number of jobs the healthcare sector added, it rose 0.76% on May 3. Almost all the sectors in the S&P 500 Index gained after the impressive April jobs report. The US Dollar Index, however, fell slightly by 0.32% on the same day.
The Federal Reserve faces the pressure of hiking interest rates when the labor market is strong. The next FOMC meeting is in June. We'll have to wait and see whether the strengthening labor market pushes the Fed's hand to raise rates again this year.