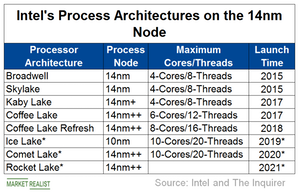 What the Rumors Say about Intel's 10 nm Product Portfolio
By Puja Tayal

May. 1 2019, Published 9:48 a.m. ET
Update on Intel's 10 nm products
Intel (INTC) is a leader in the PC and server CPU (central processing unit) market, and it has enjoyed a technology advantage over Advanced Micro Devices (AMD). However, the tables have started to turn in 2019. AMD has launched its 7 nm PC CPUs in the first half and is set to launch its 7 nm server CPUs in the second half, whereas Intel is still stuck with 14 nm nodes. The 7 nm node provides cost and performance advantages over the 14 nm node. Intel is set to launch its competitive 10 nm node by the end of 2019.
Article continues below advertisement
Intel has stated that its first 10 nm chips will be Ice Lake CPUs for laptops and are expected to hit the shelves by this year's holiday season. Until now, it was believed that Ice Lake processors would be available in small quantities, but Intel's latest update that the 10 nm transition rate has doubled suggests that these processors will be available in large quantities.
Rumors about Intel's 10 nm portfolio
Intel leverages a process node by launching laptop, desktop, and server CPUs. While Intel's 10 nm laptop CPUs will be out by the end of the year, its mainstream 10 nm desktop CPUs are unlikely to show up before 2022, according to leaked slides found by Tweakers.
In the three years during which Intel's 10 nm process node was delayed, Intel launched refreshes of its 14 nm Coffee Lake processors by offering more cores in mainstream CPUs. In this way, it intended to compete with AMD, which offered more cores at a lower price point.
Intel could launch a 14 nm Comet Lake processor with a higher core count in 2020 and another 14 nm Rocket Lake S for desktops in the first quarter of 2021. The Inquirer believes that the Rocket Lake S might have a multichip architecture like the Kaby Lake G processor, which combined Intel's CPU and AMD's Vega GPU (graphics processing unit). AMD's Vega GPUs are either 14 nm or 7 nm. If The Inquirer is right, the Rocket Lake S processor might include Intel's own Xe GPU, which is expected to launch in 2020 and to be built on its 10 nm node.
The above rumors show that Intel is falling behind AMD in terms of product implementation. However, these rumors should be taken with a grain of salt, as it's not known when the leaked slide updated. Investors should keep a close eye on Intel's product road map and its market share.