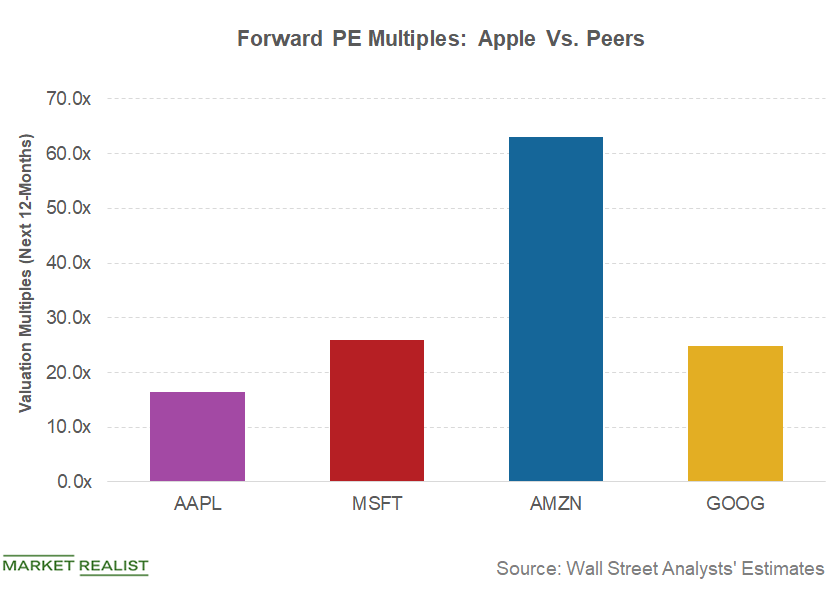 What Factors Could Affect Apple's Valuation in Q3?
Apple's valuation
In the second quarter of fiscal 2019, Apple's (AAPL) Product segment's performance disappointed for the second consecutive quarter as its revenue and profitability fell. In contrast, AAPL's Services segment's revenue and profitability grew in the quarter.
Before we discuss some key factors that could affect the company's valuation in the third quarter of fiscal 2019, let's see how its valuation multiples are trending.
Article continues below advertisement
Apple's forward PE
On April 30, Apple's forward PE multiple was 16.5x, much higher than its forward PE multiple of 13.6x about three months ago. These forward PE multiples were calculated based on Wall Street analysts' estimates for the company's earnings for the next 12 months.
In fiscal 2019, Wall Street analysts expect Apple's adjusted EPS to fall 4.4% year-over-year to $11.38.
At the same time, the forward PE multiples of other tech giants (SPY) (QQQ) Microsoft (MSFT), Amazon (AMZN), and Alphabet (GOOG) were 26.0x, 63.1, and 24.9x, respectively.
Interestingly, popular American electric carmaker Tesla's (TSLA) forward PE multiple was 135.6x on the day, much higher than the multiples of Apple, Microsoft, Amazon, and Alphabet.
Key factors to watch in the third quarter
In the second quarter of fiscal 2019, Apple continued to beat analysts' earnings and revenue estimates for the 12th quarter in a row. However, many analysts have revised their Apple estimates downward in the last few months following the company's confirmation of its iPhone sales challenges, especially in China.
In the third quarter, Apple needs to bring its Product segment's growth back on track, as it can't solely rely on its Services segment due to services' very low contribution to its total sales. A consistent drop in Apple's product sales—especially iPhone sales—is likely to affect its future earnings estimates, which could drive its valuation down.