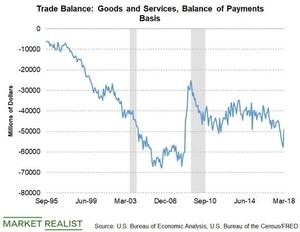 What Does Gundlach Predict for Stock Market?
By Anuradha Garg

May. 17 2019, Published 3:16 p.m. ET
Gundlach on trade war and stocks
Before the United States bumped up the tariffs on $200 billion worth of Chinese imports from 10% to 25% on May 10, Jeffrey Gundlach had predicted that there was a 50% chance of this happening. While talking to CNBC, he had said, "Both the premier of China and the president of the United States want to come across that they prevailed and didn't give in."
Article continues below advertisement
Gundlach on trade war and stocks
He had also stated that if the tariffs go up, the stocks would sell off further. The US markets were deep in the red in the two days following higher tariffs and retaliation by China (FXI). The S&P 500 (SPY), the Dow Jones Industrial Average Index (DIA), and the NASDAQ Composite (QQQ) were down 2.5%, 2.5%, and 3.5%, respectively, in the two days following the tariff announcement. Since then, the markets have recovered on the hopes that a trade deal could still be reached.
Gundlach says stocks could turn negative YTD
Despite the markets rallying in 2019, Gundlach has maintained that we are in a bear market. His definition of a bear market is, however, different from the technical definition of a bear market as happening only when stocks are down 20% from their recent peaks. He said, "I think that we're in a late cycle and I think the market can only be termed by the way I look at the evolution of market prices as a bear market." He added, "The market hasn't gone anywhere in 15 months." He maintained that the stock markets are at the same level they were at in January 2018, but they are just being volatile. Investors should note that Gundlach had correctly predicted that the S&P 500 (SPY) would end 2018 in negative territory. This time he predicts that by the end of the summer, the S&P 500 will be negative year-to-date.