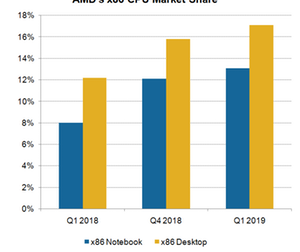 What AMD Plans for Ryzen in 2019
By Puja Tayal

Updated
US-China trade war and AMD 
2019 is a year of transition for Advanced Micro Devices (AMD) as it launches its next-generation 7-nm (nanometer) products. However, the intensifying US-China trade war could slow the growth AMD is expecting from its 7-nm product lineup in 2019.
The trade war slowed demand beginning in October 2018, which pulled down AMD's and Intel's (INTC) first-quarter revenue. However, their PC business continued to grow during the quarter driven by demand from enterprises and CPU supply shortage at Intel. Intel's CPU (central processing unit) supply shortage is likely to end in June.
Article continues below advertisement
Both AMD and Intel expect PC demand to pick up in the second half as seasonal demand picks up and the US-China trade war potentially eases. The trade talks have instead heated up increasing tariff rates to as high 25%. The new developments in the trade war are unlikely to deter AMD from proceeding ahead with its 2019 Ryzen roadmap.
AMD's plan for Ryzen in 2019
AMD expects to increase its PC CPU market share in the coming quarters of 2019 by implementing its product roadmap. AMD's CEO Lisa Su provided an update on the upcoming products at the first-quarter earnings call.
In the laptop space, Lisa Su stated that more OEMs (original equipment manufacturers) like Acer, Asus, and Lenovo are adopting Ryzen mobile CPUs. The number of Ryzen notebook models is expected to increase by more than 50% YoY in 2019 with the majority of these models coming in the second quarter ahead of the back-to-school season. In the desktop space, she stated that AMD will launch its third-generation Ryzen desktop CPUs built on TSMC's 7-nm (nanometer) node in the middle of the year.
The third-generation Ryzen CPUs will give AMD an advantage over Intel in terms of manufacturing node as the latter's 10-nm notebook CPUs will not come before the end of the year. AMD also has a security advantage over Intel. Intel's CPUs are vulnerable to another hardware flaw Spoiler, whereas AMD's CPUs are not exposed to this flaw.
It remains to be seen to what extent manufacturing node and security advantages will help AMD gain market share from Intel in the PC CPU space.
Check out all the data we have added to our quote pages. Now you can get a valuation snapshot, earnings and revenue estimates, and historical data as well as dividend info. Take a look!