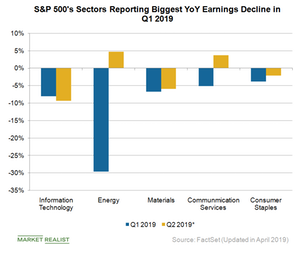 US Tariffs on Chinese Imports Affect Tech Players AAPL, MU
By Puja Tayal

May. 13 2019, Published 3:19 p.m. ET
How tariffs affect businesses
Tariffs spell bad news for businesses, as they increase the price of raw materials, components, and finished goods. These costs are passed on to customers, thereby reducing consumer spending. Lower spending increases channel inventory, forcing manufacturers to reduce their production and ultimately leading to an economic slowdown.
The US-China (FXI) trade war hit the semiconductor sector in the fourth quarter of 2018 after the United States imposed a 10% tariff on $200 billion worth of Chinese imports, including semiconductors. Semiconductor companies can't easily pass their costs on to customers given the highly competitive nature of the business. If they raise their prices, consumers might switch to Korean or Taiwanese companies. Hence, these companies absorbed the 10% tariff by taking hits on their margins and shifting production away from China to reduce the impact.
Article continues below advertisement
2018 trade tariffs
The 2018 tariffs stalled global economic growth and slowed China's economic growth to a 28-year low. Because China is the biggest market for US semiconductors, the slowdown in Chinese demand significantly affected US semiconductor companies' revenues.
Apple (AAPL) blamed falling Chinese demand for a 15% YoY (year-over-year) fall in iPhone sales in its first quarter of fiscal 2019. Intel and Micron (MU) blamed the slowdown in China's data center spending for the slowdowns in their data center revenues. Intel even lowered its 2018 revenue outlook by $2.5 billion because of weak demand.
According to FactSet data for the first quarter, the IT sector reported the second-highest YoY (year-over-year) EPS fall of 8% after the energy sector. This 8% fall was driven by a 22% earnings fall in semiconductors and semiconductor equipment and a 22% fall in technology hardware, storage, and peripherals. At the company level, Micron and Apple reported the largest YoY EPS falls of 39.4% and 13.2%, respectively.
2019 trade tariffs
Some US semiconductor companies can avoid the 25% tariff by shifting their supply chains to other countries. But if China imposes a higher tariff on US semiconductor imports, demand could fall further, affecting their overall earnings. The demand uncertainty created by the trade war pulled Micron and Apple stocks down 12.7% and 8.3%, respectively, between May 6 and 10.