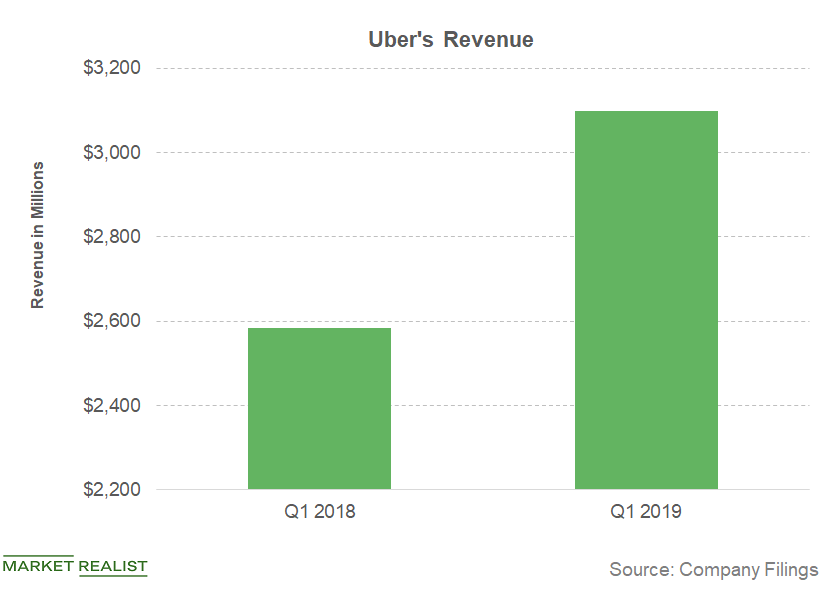 Uber's Driver Incentives Surged to ~10% of Revenue in Q1 2019
By Jitendra Parashar

May. 31 2019, Published 9:54 a.m. ET
Uber's revenue in Q1 2019
In the first quarter, Uber Technologies (UBER) reported revenue of $3.10 billion, up 4.2% sequentially and 19.9% on a YoY basis. This revenue figure was also slightly better than Wall Street analysts' consensus estimates of $3.04 billion. The company's adjusted net revenue growth for the quarter was slower. Let's find out why.
Article continues below advertisement
Lower adjusted net revenue growth
In the quarter ended March 2019, Uber spent $303 million on excess driver incentives, up from $129 million spent in the quarter ended March 2018. During the quarter, the company spent $35 million for driver referrals, up from $32 million spent a year ago.
After deducting these two increased expenses from its total revenue, Uber's adjusted net revenue stood at $2.76 billion in the first quarter, up 13.9% YoY, lower than 19.9% YoY growth in its total revenue.
Why should investors care?
Interestingly, ridesharing companies, including Uber, try to attract drivers to work with them by paying them incentives. These incentives play a major role in drivers' decision to work with a particular ridesharing company.
In the first quarter this year, Uber paid more aggressive incentives, which were nearly 9.8% of its total revenue and 10.3% of its core platform revenue. In the first quarter of 2018, these incentives were about 5.0% of their total revenue and 5.1% of their core platform revenue. In its first-quarter earnings conference call, the company revealed that it primarily increased driver incentives in the US and Latin America.
A significant increase in its driver incentives is a part of Uber's strategy to grow and expand faster than its competitors. While higher incentives could temporarily attract drivers to work with Uber, the impact on the ridesharing company's long-term growth strategy remains uncertain.