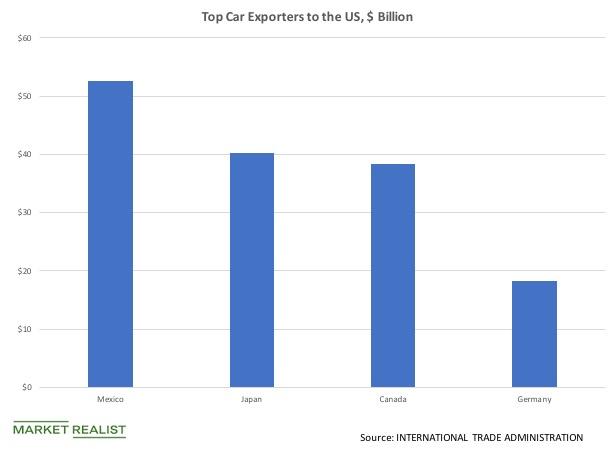 The US May Delay Auto Tariffs on Europe—Is China Listening?
By Mike Sonnenberg

May. 15 2019, Published 1:49 p.m. ET
Bloomberg report
Today, Bloomberg reported that Trump could postpone tariffs on auto imports by six months. The Trump administration is planning tariffs on auto imports on the basis of an alleged threat to national security. The deadline to make a decision on the tariffs is Saturday.
Article continues below advertisement
How markets reacted
At 11:49 AM ET, the S&P 500 (SPY) was up 0.54%, the Dow Jones (DIA) was up 0.43%, and the NASDAQ (QQQ) was up 0.96%. The markets opened lower but gained after the Bloomberg news broke out.
The iShares MSCI Germany ETF (EWG) was 0.94% at 11:52 AM ET. Germany is the largest automobile exporter in the world, and it would be the most affected if the tariffs come into effect. The ETF opened lower as Germany's DAX Index ended in the red today. However, it quickly jumped as soon as the news broke.
The iShares MSCI Japan ETF (EWJ) opened lower but gained after the auto tariff news came out. The ETF was trading 0.21% higher at 12:03 PM ET.
Why it matters
The probable delay in levying auto tariffs is a significant step. It could signal that Trump is ready to soften his stance on China. A softer stance would mean that a trade deal is more likely, ending the trade war. Since markets are anxious about the trade war, any news that signals the end of the tensions would be welcomed by markets around the world.