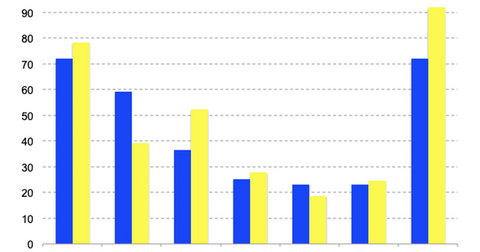 Smartphone Shipments Continued to Decline in Q1
By Sanmit Amin

Updated
Apple's iPhone shipments fell 30.2% YoY
Most smartphone companies continued to have an abysmal time during the first quarter of 2019. According to a report by IDC, global smartphone sales fell 6.6% YoY in the previous quarter to 310.8 million units.
Apple (AAPL), which does not disclose its unit sales anymore, sold only 36.4 million iPhones globally in the March quarter, the report said. According to IDC, Apple's iPhone sales fell by 30.2% YoY, which is very concerning. Apple's market share continues to fall. According to IDC, it had cornered only 11.7% of the global smartphone market in the quarter. Apple made $31.05 billion in revenue from iPhones in the previous quarter, a decline of 17.4% YoY, which represented Apple's second straight quarter of decline in iPhone revenue. It seems that this decline was driven by a huge contraction in iPhone shipments.
Article continues below advertisement
Huawei is seeing tremendous growth despite challenging circumstances
Meanwhile, Chinese vendor Huawei's sales during the quarter grew a stunning 50.3% from the same quarter last year to 59.1 million units. Xiaomi's (XIACF) global growth turned negative in the first quarter. The company shipped only 25.0 million units, declining 10.2% from the year-ago quarter.
Samsung (SSNLF), meanwhile, maintained its best-seller position, selling 71.9 million smartphones worldwide during the March quarter. However, Samsung's shipments declined 8.1% YoY. Huawei could possibly dethrone Samsung in the coming quarters at this rate.