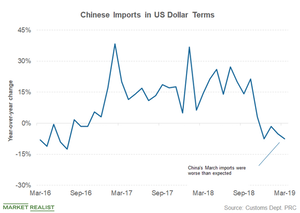 Rare Earth Stocks Are Rising Due to Chinese Export Threat
By Anuradha Garg

Nov. 20 2020, Updated 12:29 p.m. ET
Reduced reliance on rare earths
On May 29, Reuters reported that the Department of Defense submitted a report to Congress about rare earth metals. The US plans to reduce its reliance on China's rare earth minerals. There was a veiled threat from China about using the minerals as a weapon in the ongoing trade war.
On May 29, Ray Dalio highlighted in his LinkedIn post that both sides are moving toward being independent. He said, "That is a big deal because it is a major, multi-year undertaking that will take resources away from other development." Dalio also said, "These forces will be major disruptors to the specific people, companies, and governments affected by them."
Article continues below advertisement
Impact on US stocks in the short to medium term
China has a dominant position as a rare earth producer. China produces about 95% of the world's rare earth minerals. The US depends on China for as much as 80% of its imports. A restriction from China could impact US companies in the short term. However, the US could adapt and start its own production or look for alternatives in the medium term. Investors should keep an eye on US tech stocks (QQQ) including Apple (AAPL), Qualcomm (QCOM), NVIDIA (NVDA), and Advanced Micro Devices (AMD), which could take a severe hit if restrictions come into effect.
Rare earth stocks
The VanEck Vectors Rare Earth/Strategic Metals ETF (REMX), which provides exposure to companies involved in rare earth mining, has been rising due to China's threats. Tronox Holdings (TROX) is the only US-listed company in REMX's top 20 holdings. The Rare Element Resource (REEMF), a US-based company that explores for mineral properties, rose 148% on May 29 due to China's threats. Australia-based rare earth company, Lynas (LYSCF) reached a five-year high due to the rare earth export threat.