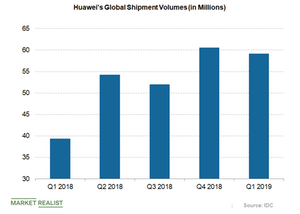 Qualcomm and Intel Join Google in Cutting Ties with Huawei
By Sophia Nicholson

Updated
Trump blacklisted Huawei
Last week on Thursday, the Trump administration added Huawei Technologies to a trade blacklist, which restricted US companies from working with the Chinese company. Alphabet's (GOOGL) Google decided to stop doing business with Huawei, thus making it difficult for the latter to sell smartphones outside China where the Google Play Store and other Google apps are primary requirements in a phone.
Other Huawei suppliers like Qualcomm (QCOM), Intel (INTC), and Broadcom have also joined Google and stopped dealing with Huawei, effective immediately. While Intel supplies server chips and processors for Huawei's laptops, Qualcomm provides modems and other processors. US memory chipmakers Micron and Western Digital have also suspended shipments to the Chinese giant. On May 20, German chipmaker Infineon Technologies also suspended some shipments to Huawei, according to the Nikkei Asian Review, after it was listed on Trump's blacklist.
Article continues below advertisement
Why is Huawei a threat?  
The US government believes that Huawei is a massive threat to the country. In January, the US Department of Justice charged two units of the company with stealing trade secrets from T-Mobile USA. Then in December, Trump asked Canadian authorities to arrest Huawei CFO Meng Wanzhou for defrauding several Iran banks.
The Chinese company had reportedly been trying to penetrate the US smartphone market for a long time, which was posing a threat to the US. In Q1 2019, Huawei overtook Apple as the second-biggest smartphone brand in Q1 2019 and is now racing to beat Samsung to become the top smartphone company in the world.
Huawei has been gaining market share with its new features like reverse wireless charging, onboard AI, advanced cameras, and more. Huawei's revenues crossed $100 billion in 2018, while its revenues grew 39% YoY in Q1 2019. Huawei shipments in Q1 2019 rose 50% from the year-ago period but declined marginally from the preceding quarter.