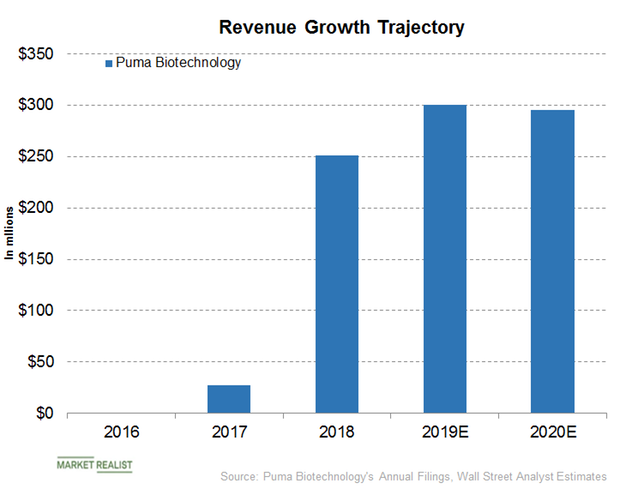 Puma Biotechnology Reduced Guidance for NERLYNX Sales
By Margaret Patrick

May. 14 2019, Published 4:09 p.m. ET
Revenue guidance
In its first-quarter earnings conference call, Puma Biotechnology (PBYI) reduced its guidance for fiscal 2019 net sales of NERLYNX in the US market from $255 million to $280 million to $220 million to $240 million. The company increased its estimate for fiscal 2019 gross-to-net adjustments from 9% to 13%. Puma Biotechnology attributed the change in revenue guidance to a drop in total NERLYNX bottles sold in the first quarter, the expected reduction in sales volumes in fiscal 2019, and higher estimates for fiscal 2019 gross-to-net adjustment.
Article continues below advertisement
In its first-quarter earnings conference call, Puma Biotechnology also reduced fiscal 2019 licensing and royalty revenue guidance from $5 million to $10 million to $3 million to $6 million. This change is attributable to a delay in securing reimbursement approvals for NERLYNX in Canada and Australia.
International market strategy for NERLYNX
According to the first-quarter earnings conference call, Pierre Fabre is expected to launch NERLYNX in Europe in fiscal 2019. The partner is expected to leverage its existing sales and marketing infrastructure in Europe, developed while commercializing breast cancer chemotherapy drug, Vinorelbine.
Puma Biotechnology expects to receive an estimate for fiscal 2019 NERLYNX sales in the European market from Pierre Fabre in the next one to two months. The company plans to update investors about this sales figure in the third quarter.
On March 18, Puma Biotechnology issued a press release announcing marketing approval secured by the company's licensing partner, Specialised Therapeutics Asia, for NERLYNX, from Australia's TGA (Therapeutic Goods Administration). The drug has been approved in an extended adjuvant setting in the early stage HER2-overexpressed/amplified breast cancer indication. Specialized Therapeutics Asia also plans to secure marketing approval for NERLYNX in other international markets such as Singapore, Thailand, Brunei, Vietnam, and Malaysia.