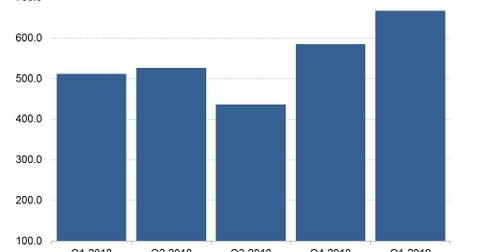 PayPal's Challenges in the UK to Diminish
By Neha Gupta

May. 16 2019, Published 2:39 p.m. ET
PayPal secures provisional clearance for iZettle transaction in the United Kingdom
The United Kingdom's antitrust regulator recently provisionally cleared PayPal's acquisition of payment company iZettle. Last year, the CMA (Competition and Markets Authority) raised concerns about PayPal's takeover of iZettle, saying that a merger of the two could stifle competition in the UK market.
Consequently, the CMA launched a comprehensive review of the transaction, which carried a lot of risk for PayPal. The company's plans for iZettle would be delayed, and it could be forced to divest certain assets to secure CMA clearance. The CMA's decision to provisionally clear the transaction without demanding concessions seemed to minimize PayPal's challenges in the region.
Article continues below advertisement
Cash usage declining
The United Kingdom is one of the European countries in which consumers are increasingly shunning cash in favor of card payments, so it presents an attractive growth opportunity for PayPal. The use of debit and credit cards for everyday transactions is on the rise in the region, with UK Finance data showing that cash accounted for just 34% of all payment transactions there in 2017, down from 61% in 2007. Cash usage is expected to continue its decline in the United Kingdom, falling to 16% of all payment transactions by 2027.
PayPal made a $667 million profit
PayPal made a profit of $667 million on revenue of $4.1 billion in the first quarter. Square (SQ) suffered a $38 million loss in the same period. Fiserv (FISV) and First Data Corporation (FDC) made profits of $225 million and $162 million, respectively, in the quarter. eBay (EBAY), the e-commerce company that's in the process of dropping PayPal as its payment partner, made a profit of $521 million in the first quarter.