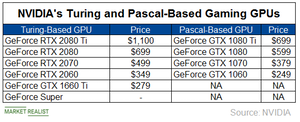 NVIDIA Teases New Gaming Product under 'Super' Logo
By Puja Tayal

May. 24 2019, Published 2:12 p.m. ET
NVIDIA creates hype around new gaming product
There have been a lot of rumors about Advanced Micro Devices' next-generation Navi GPU (graphics processing unit) being unveiled at Computex 2019 on May 27.
NVIDIA (NVDA) is looking to steal the limelight from AMD at this event. On May 23, NVIDIA uploaded a 15-second teaser on the GeForce YouTube channel showing the logo "Super," indicating that something big is coming.
This teaser built hype and set the rumor mill churning about what "Super" means. As the teaser appeared on the NVIDIA GeForce channel, one thing that's certain is that Super is a gaming product. The timing would also be perfect: NVIDIA launched its Pascal gaming GPU in May 2016, just before the back-to-school season.
Article continues below advertisement
Moreover, NVIDIA's CEO, Jensen Huang, said on the company's fiscal 2020 first-quarter earnings call that the company would be rolling out its complete Turing line-up in the second half, which would increase its revenue. If we connect the dots, we can assume that Super is either a Turing-based gaming GPU refresh or a whole new edition of RTX GPUs.
Rumors around NVIDIA's new Super GPUs
There are rumors that Super might be a new edition of Turing-based GPUs that will compete with AMD's Navi GPUs. Some rumors say that the Super GPUs will feature improved coolers and clock speeds.
According to a rumor from RedGamingTech, NVIDIA might upgrade to a faster 16 Gbps (gigabits per second) GDDR6 (graphics double data rate) memory from its 14 Gbps GDDR6 RTX line. Faster memory could improve its GPU performance by 14%. It's believed that the Super version will be expensive.
No matter what happens at Computex, investors can likely expect some major price movements in AMD and NVIDIA stocks on May 27.