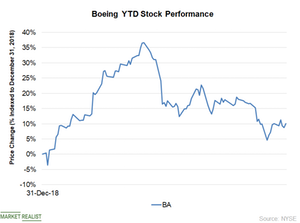 New Orders Come as a Respite for Boeing amid 737 MAX Crisis
By Anirudha Bhagat

May. 28 2019, Published 9:45 a.m. ET
MAX crisis
The Boeing Company (BA) has received new orders for its wide-body 787-10 Dreamliner jets. On May 27, Air New Zealand announced that it was entering into a contract to purchase eight 787-10 Dreamliner planes valued at $2.7 billion.
Boeing desperately needed new orders for its other aircraft, as orders for its fast-selling narrow-body 737 MAX planes have entirely dried up after the Ethiopian Airlines crash on March 10. The deadly accident took 157 lives, following which regulators and air carriers around the world grounded their 737 MAX fleets. Additionally, airline operators have also denied taking deliveries of said jets until the safety concerns are cleared.
Article continues below advertisement
Boeing's 737 series airplane accounts for ~80% of its total aircraft shipments and contributes nearly 30% to the company's overall operating profit. Among major US air carriers, Southwest Airlines (LUV) has the highest number of orders for Boeing's 737 MAX series jets at 280. United Airlines (UAL) and American Airlines (AAL) have each placed orders for 100 planes.
Therefore, delivery cancellations are hurting the company's revenues, earnings, and cash flows. During the first quarter of 2019, Boeing's deliveries for its 737 series jets fell to 89 from 132 in the first quarter of 2018. The airplane manufacturer's first-quarter revenue, operating income, and EPS fell 2%, 21%, and 13%, respectively, year-over-year.
Stock performance
New orders from Air New Zealand are likely to help the company gain some investor confidence. Since the Ethiopian Air crash on March 10, Boeing stock has been under tremendous pressure. Since March 10, the stock has lost 16% of its value. Its YTD (year-to-date) gain has eroded to 10% from 31% on March 8.
Furthermore, until March 8, Boeing was the top gainer among the Dow 30 stocks. However, it's now slipped into 16th place. Currently, Cisco (CSCO) tops the list with a YTD gain of 25.5%, followed by American Express (AXP) and Microsoft (MSFT) with returns of 25.4% and 24.3%, respectively.
The stock has also underperformed the returns of the iShares Transportation Average ETF (IYT), which has gained 10.7%. The ETF has allocated 16.7% of its fund to airline industry stocks.