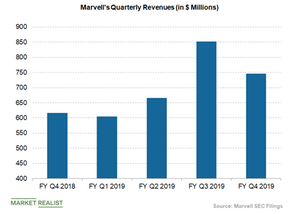 Marvell Agrees to Sell Its Connectivity Business
Marvell's connectivity business
On May 30, Marvell Technology (MRVL) shares rose 3.1% to $22.02 after the company agreed to sell its wireless connectivity business for $1.76 billion to NXP Semiconductors (NXP). However, NXP Semiconductors stock fell marginally after the acquisition news.
The deal to sell Marvell's Wi-Fi, Bluetooth, and other connectivity business would benefit the company. Marvell would be able to focus more on the network equipment market. The agreement is expected to close in the first quarter of 2020.
Article continues below advertisement
Marvell's growing on acquisitions
Marvell selling its connectivity business to NXP Semiconductors follows back-to-back acquisition deals. The deals are expected to boost Marvell's top line and margins.
On May 20, Marvell agreed to buy Avera Semiconductor, which makes high-cost application-specific integrated circuit chips. The deal will likely be completed in the current fiscal year ending in January 2020. The deal will likely contribute ~$300 million to Marvell's revenues in fiscal 2020. Marvell's revenues grew 21% year-over-year to $745 million in the fourth quarter of fiscal 2019. The company's revenues fell 12.5% from the previous quarter.
The Avera deal followed the acquisition of Aquantia for ~$452 million. The deal with Aquantia was announced earlier this month. The deal would help Marvell boost its networking business. In July 2018, Marvell purchased Cavium for over $6.1 billion. Marvell gained processing capabilities and some other assets to boost its network, video, security, storage connectivity, server, and other applications.